This is the chart of ING VYSYA BANK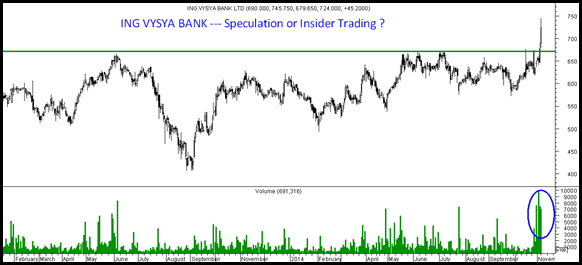 Things to note
-> Last many months the stock had a lot of resistance at 670.
-> Last 3-5 sessions volumes go up by 3-5 times.
-> Stock has moved up from 650 to 740 in last two days.
-> After opening at 730s the stock is now down at 705.
Todays News
Well its not actually news but a rumour in the newspaper.
" A source privy to the development told The Indian Express that the NBFC is engaged in discussions with ING Vysya Bank "
The last two days of a move was a speculative activity or somebody playing out the inside news leakage ?
Whatever be it but this is how the market is but on technicals a breakout above 670 did indicate something speculative on positive side.
Did not trade this one but was on radar for quite some time. The chart looks interesting but will watch for a dip to 670 or a further new high for a fresh view.
I had earlier written about some insider activity seen in L&T Finance too some months back. which did lead to some action by SEBI
TECHNICAL ANALYSIS TRAINING SESSION – MUMBAI – November 15-16  – Pay as you want.
( LAST 3 Seats LEFT )
To register and confirm your participation you need to make a payment of Rs 2000 ( refundable if you do not like the course).
https://www.instamojo.com/noooreshtech/technical-analysis-training-mumbai-november-/
What does Pay as you Want mean ?
-> We have decided to keep 3-4 sessions in this financial year to benefit our old readers and participants interested in learning technical analysis.
-> Participants can pay as much as they want according to their assessment. ( If you do not like the course the Rs 2000 registration fee is also refundable).
-> The registration fee is kept so that only interested people register and there are no last minute cancellations.
-> The entries are on a first come first service basis with limited seats of 15-20 participants.
-> Further sessions will also be in Mumbai. If you want to have one in your home city do mail menooreshtech@analyseindia.com .
-> We are going to increase our prices for the training program in next financial year.( has been Rs 14000 since inception in 2006).