As there is sluggish movement in the index this gives me time to write on various topics going around in our market.
Although i need not give an introduction to what the stock is as it is one of the most discussed stocks
Of late i have stopped getting queries on this stock as the stock is down 50% from the price of 0.60-0.7 paise when it was dumped to people as a stock which would grow 5-10-20 times etc.
Let us look into the stock movement which will give a good idea about the way stock is generally dumped to the dumb retail Investor.
I havent done an exact research but its something like a dud listed company taken over taken from 5-10 paise ( adjusted for split ) to 12 rs and dumped with help of GDR issue then split announcement for hope.
Again float the same story at 0.60-0.70!!. Now will the stock back to the dud value of 0.10 ?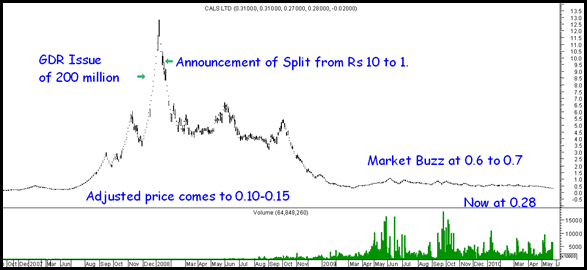 Certain questions which hit my mind is why GDR issue? The project is supposed to be thousands of crores then why is the market cap at less then 250 crores.
Is it the recession which duped the company or company duped others in the bull market…. Time would tell.
But what hits me is that people like to buy a 30-50 paise company in hopes of it turning a multibagger and end up losing 50-70%. Guess what many brokers charge 5 paise brokerage which means 15% is the cost of trading the stock !!! Whoa sitting on a notional loss of 15% right away is sic:)
Yet Again bottomline is there are better places to invest your hard earned money and if you want to gamble then go to a casino at least you will get some entertainment 🙂 Will update more when i do more research.