To start with i have no affinity for the Reliance ADAG group or rather i prefer to avoid even taking a short term trade for almost 2-3 years now but technically the stocks seem to be giving signs of bottoming out and maybe its a time to have a fresh view on them and forget the earlier bearish bias.
Of all the ADAG group stocks the two best ones seem to be RCOM and RCAP and if Relinfra goes to 350 can have a look.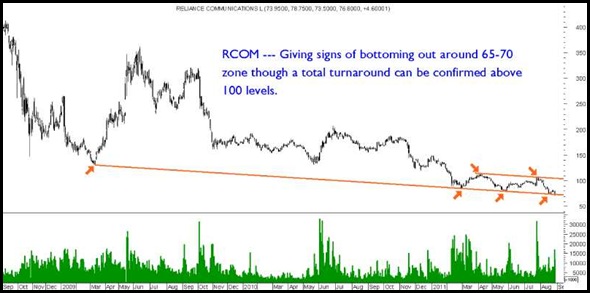 RCOM --- The stock is on the bottom of a long term trendline and channel with a possibility of a pullback to 100 in medium term. Downsides possible to 65-70.
Although i would be skeptical about the stock but people who are stuck at very high levels may actually look to average out.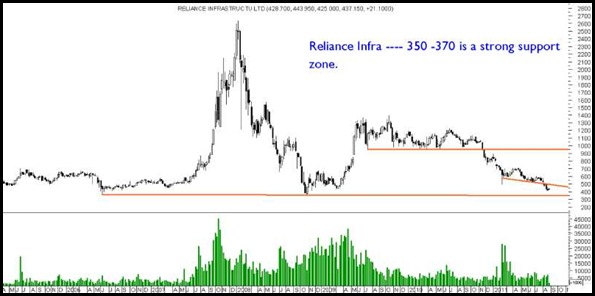 Reliance Infra – A major support comes around 350
Reliance Capital – Again at the bottom of the channel but more comfort when it starts trading above 400 levels. The upticks have been on good volumes makes it interesting.
Although i may not have turned totally bullish on RCOM and RCAP but they are definitely on the radar as they may give good trading opportunities. And would suggest people who have been stuck at very high levels may actually be a bit patient and HOPE 🙂 for better days in them and possible pleasant surprise of a 10-20% jump any time in Rcom and Rcap.
Happy Investing,
Nooresh Merani
For more of our Advisory Services and Training in Technical Analysis have a look at www.analyseindia.com or speak to Kazim 09821237002 and Asif 09833666151