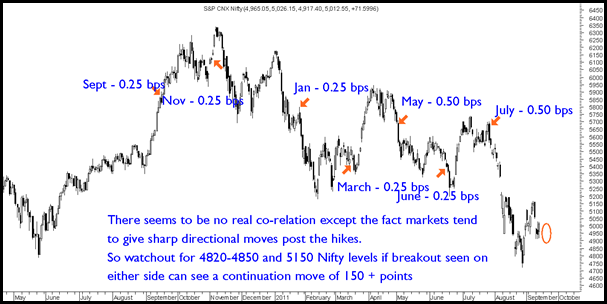 Well i have just tried to do a quick plot of RBI hikes and subsequent market movements. Statistically not a very clear co-relation but Index does give a nice directional move over the next few weeks.
Of the things seen major hikes do not come back to back as there is a lag effect to any policy action. So in that case if RBI does want to hike rates sharply it may do with one 0.25 bps for now.
So it does not really matter what happens if RBI does 0.25 bps or says hawkish on the technical side if it holds 4850 then we may expect 5200 also to be tested.
With the volatilities being at 30 + the market seems to be pricing in a lot of panic so we may not see a sharp drop in short term post RBI.
Bottomline – Cracks if any coz of RBI should be used to buy into quality stocks as in every rally we have seen many sectors/stocks move up 15% irrespective of the index.
For example around 4700-4800 Nifty and Sensex 15800 on 29 August we came out with a detailed powerpoint – Short Term Bottom in Sight – Bounce Back on Cards we covered the possibility of a rise to 5100-5200 and 16800-17300 with certain stocks mentioned.
Many of the stocks like GSFC, HUL, Bajaj auto , M&M . Atul ended up close to 52 wk highs and others also gave sharp bounce backs and are still holding strong even in current dip.
So it will be stock selection which will make a difference rather then looking at the index !!! HUL one of my favorites is up from 310 to 350 whereas index is at the same place.
ALSO for all the readers its a good opportunity to get free gifts from Analyse India !!!!!
Check the post - https://nooreshtech.co.in/2011/09/niftysensex-a-brief-statistical-look-on-p-ediv-yield.html  
and ANSWER A FEW QUESTIONS
Happy Investing ,
Nooresh