Last Friday had mentioned that one can look at staggered buying as INDIA VIX was back to 37 odd levels showing extreme panic. Alert VIX . We initiated a couple of option strategies on Friday which yielded 5% + in 3 sessions ( will update a detailed post on it soon )  . look at the previous Alert which was before 4900 to 5150 move – INDIA VIX
Again had mentioned yesterday the view remains to buy on declines in specific stocks. One should now look to book on rise to 5050 + as from a low of 4750 we expected a 6-10% bounce which gives us 300 + points move.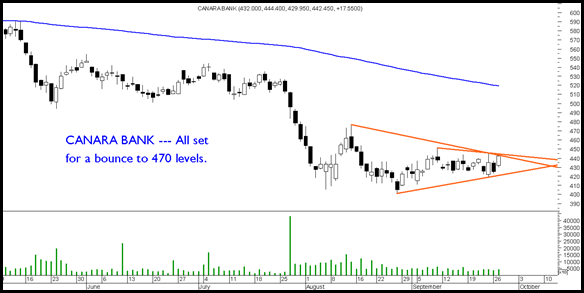 CANARA BANK --- Stock to watchout for tomorrow can jump to 455/470.
Disclosure : BTST taken at 441 for clients
TECHNICAL ANALYSIS TRAINING SESSION ————— MUMBAI OCTOBER 1 –2
For more details contact Kazim 09821237002 or mail on analyseindia@analyseindia.com
Also would suggest readers to take this bearish phase as the best time to learn technical analysis so that you can profit from it in the future. The best time to learn is now !! and the 2 day training programme we conduct is the best way to do it and all it requires is an interest to learn and no other pre-requisite knowledge.
btw will be featuring on CNBC TV 18 BullsEye program for this week.
Happy Investing,
Nooresh Merani
( If you would like to talk to me please send an sms to 09819225396 or mail me with ur contact details )