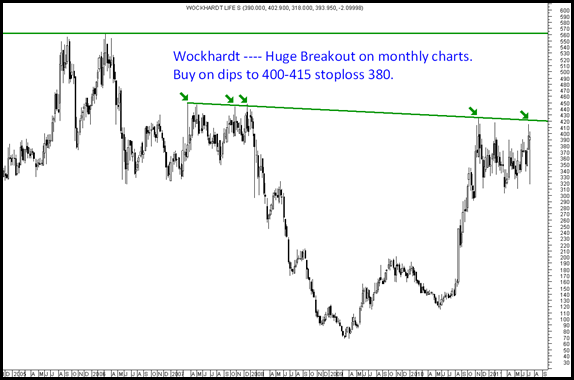 Wockhardt Limited -
- > The stock had been in the range of 310 to 410 for the last 6-9 months.
- > Todays move above 420 with volumes signifies a major breakout which can target 550 levels in the medium term.
- > The stock can be bought partially at current levels and on dips to 400-415 with a closing stoploss of 380 with a medium term view.
- > Short term target 460.
Dislcosure: Recommended to clients at 408.
Some other stocks to watchout for
Tech Mahindra could give a fresh breakout above 760 levels. Traders can keep a watch.
Glaxo Consumer, Gillette, Nestle are few MNCs which look good as defensive bets on any sharp dips.
Please do your own research before entering any stock.
TECHNICAL ANALYSIS TRAINING SESSION –
PUNE July 16-17
BANGALORE July 23-24
MUMBAI July 30-31