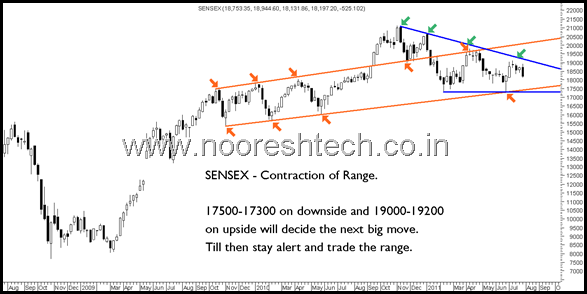 Sensex Weekly Technical Chart:
Let us look into simple technical observations on the weekly chart.
-> Its a clear cut channel shown by orange lines and arrow.
-> On the other hand its also a triangle shown with blue lines and green arrows.
-> The size of the channel is roughly around 2200-2500 points.
-> Even the base of the triangle could be around 2500+ points.
-> The triangle is contracting and at some point of time in next 3-5 months the market has to breakout.
-> The breakout points are placed at 17300 and 19200 as of now.
-> If one would take direct projections the breakout or breakdown could imply a 2500 points move in either direction.
Some further things to note.
-> The last time Sensex broke out above this channel was in Sept 2010 where in it moved from 18500 to 21000 in quick time. But the rally fizzled out over the next few months. Interesting thing to note is index fluctuated around the 17800-18400 levels for many weeks before a breakout.
-> Currently the index has not spent much time around the lower end of the channel but if it continues to do so closer to 17300-18000 would be a bad indication. So would prefer to keep a stoploss of  17700 levels for current longs and be more conservative.
-> As of now there are no indications pointing to a breakdown but neither a direction for a breakout clear. So one needs to be alert. ( Although my bias is pretty bullish, wont think a bit and get on to very very high cash if 17300 breaks. Similarly bullish view would be confirmed on a breakout above 19200)
Bottomline:
What it clearly seems 3 months later down the line you can either be ultra bullish or ultra bearish. So let us be candid about our views and be alert for opportunities and react quickly on any trend change. For me the view remains bullish but below 17700 will get cautious and on break below 17300 would prefer to be totally out till then the focus remains on stock specific opportunities.