Sensex Technical View:
Market tends to surprise as always.
This becomes yet another attempt at 5700-5750 and 19100 trendline resistance. So till we dont start closing above the trendline levels will make the markets sluggish broadly in 18000-19000 levels.
At current levels the broader market seems more interesting as the action is in quality mid and large caps.
For example Wockhardt discussed few days back has seen a follow up move , BOC India mentioned at 270-280 levels made a move to 315 today it still remains a good defensive pick with good chances of delisting. Buy closer to 270-290 if it dips.
Stocks to Watchout for :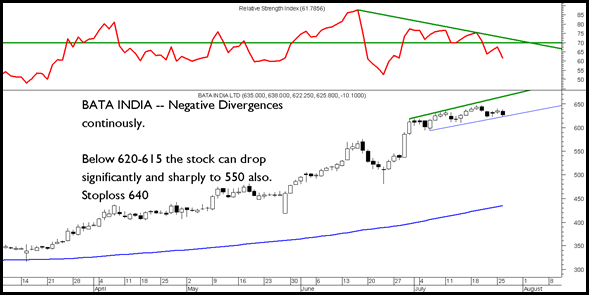 BATA INDIA
The stock is showing huge negative divergences any drop below 615-620 can lead to a sharp fall in the stock to even 550 levels.
Showing signs of topping out unless its able to cross 640 levels. So one can short on breakdown for a day trade.
Renuka Sugars
The stock is nicely placed for a breakout above 76. Can give a quick move to 80 and further to 90 in few more weeks.
Seems something is cooking in Sugar stocks as Balrampur chini, eid parry also look interesting.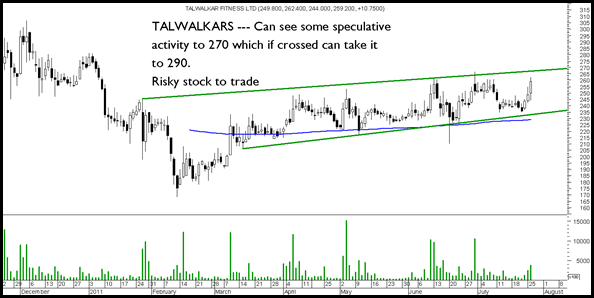 Talwalkars
Although this is a difficult stock to trade as very volatile.
The stock can see some speculative to 270 first which if crossed can take it to 290. very risky stock to trade 🙂
Mumbai 30-31st July
Mumbai 27th-28th August
Online Technical Analysis Workshop on
August 6th-7th
To know more on Discounts & Details contact: Kazim on 09821237002 or Asif on 09833666151
Cheers,
Nooresh