We keep receiving queries about why is our Technical Analysis emphasizes on Sensex and we avoid putting up Nifty Charts.
So finally here i disclose the secrets in a quick checklist.
- > Nifty does not show gaps
- > Nifty has data only since 1994
- > Nifty is the most traded index and has an incentive to be manipulated.
- > Nifty is the most tracked index by traders.
Although there would be many more points and observations but we continue to stick to using a combination of observations on both indices.
Also generally we do see false breakdowns in Nifty which creates traps for technical traders. As Nifty is an index of 50 stocks one should also look into the overall technical picture of 50 stocks as well as Sensex which is the other benchmark index.
So lets look into the current trap for Nifty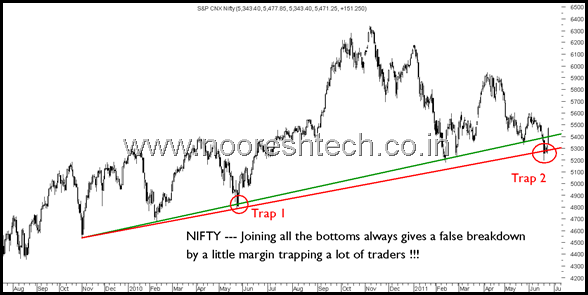 - > As it can be seen there seemed to be a clear cut breakdown below both the trendlines.
- > Similar false breakdown was seen last year when the consensus technical support was 4810-4850 Nifty made a low of 4780.
- > Surprisingly the recent low of 5195 is higher than 5177.7 which was not noticed because of the sentiment factor.
- > Its clearly seen both the times a good trap was created. Also
Now let us look into the Sensex Chart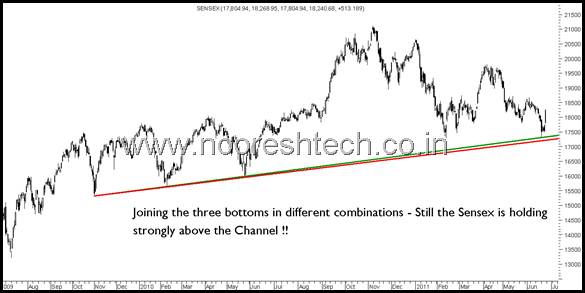 - > Cleary seen the trendline joining all the three bottoms is holding strongly and Sensex does make a low very close to it.
- > Even the last year bottom at 15960 is perfectly on the trendline
- >Sensex recent low of 17314 is marginally higher then 17295 making it to qualify for a possible double bottom.
- > Both the times buying closer to channel support on Sensex gave super returns.
BottomLine -
- > Use Sensex also as an index to observe before taking a view on Nifty trading.
- > Whenever a breakdown is seen on Nifty but not supported by Sensex there is a sharp reversal in the markets which one needs to be wary of !!!
All the above observations are through the earlier experiences and may be debatable 🙂
Regards,
Nooresh