This is one of the most interesting piece of statistic and will clearly suggest how the market sentiments regards fundamentals or how the definition of fundamentals changes with liquidity.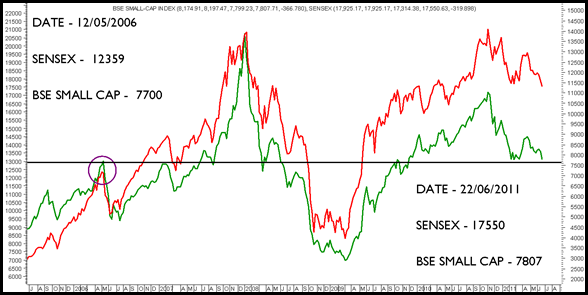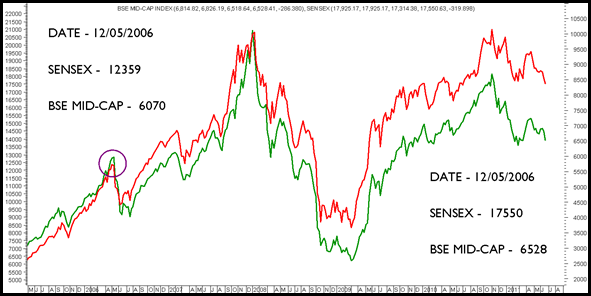 If we were to look in the below charts BSE Mid Cap and BSE Small Cap Index are close to levels of what they were in 2006 mid or start of 2007.
At that point of time Sensex was at 12500 ( mid 2006 ) and 14000 ( start of 2007 ).
Few more interesting statistics
- > BSE MIDCAP INDEX
- Down 36.38% from the peak of 2008
- Down 25.85% from the peak of 2010
- > BSE SMALL CAP INDEX
- Down 45.23% from the peak of 2008
- Down 31.39 % from the peak of 2010
- > SENSEX
- Down 18.35% from the peak of 2008
- Down 17.97% from the peak of 2010
So it clearly shows Mid- Cap and Small- Cap indices are quoting at levels of 2006-2007 and equivalent to 12-14k levels of Sensex.
This shows the relatively under-performance of the Smallcaps/Midcaps category over the last 5 years as well as in the last 1 year.
At the same time Midcaps and Small caps are up 155% and 172% from the low of 2009 compared to Sensex 124% from 2009 lows.
Statistically it suggests that low risk investors should focus on large caps but be ready for slow and steady returns as if one were to take 2006 then the net gain is just 30% in 5 year but if one were to continously book partial profits will be in a better place.
Also the severe under-performance in SmallCaps-Midcaps makes me believe over the next 1-3 years the opportunities are way higher in this segment and one should identify strong management quality stocks with sound fundamentals.
Over the next 3 months we would look to identify some stocks which could give steady returns -
So couple of stocks that come into my radar for 1-2 years point of view –
Godrej Inds – Excellent diversification with Real Estate, Agro, Chemicals and FMCG with the management turning a bit more aggressive.
Smartlink Network Systems – This stock would be a bet at only 50-40 levels as the stock gives good margin of safety with the stock being available at 50% or more discount to cash and a management which was the only one to give 30 rupees special dividend and sticking to normal dividend as well as taking no non compete fee which really shows some commitment on part of the management. The stock may test patience over the next few months but any significant clarity on future plans will lead to re-rating of the stock.
Certain other stocks under study -
Bombay Dyeing, Century Textiles, Arvind Mills, Amar Raja Batteries, Godfrey philips, VST Inds, First Leasing Company of India, Divis Labs, Aditya Birla Nuvo and the list goes on.
Readers can contribute too in the on going research – mail me on nooreshtech@analyseindia.com
Cheers,
Happy Investing ,
Nooresh