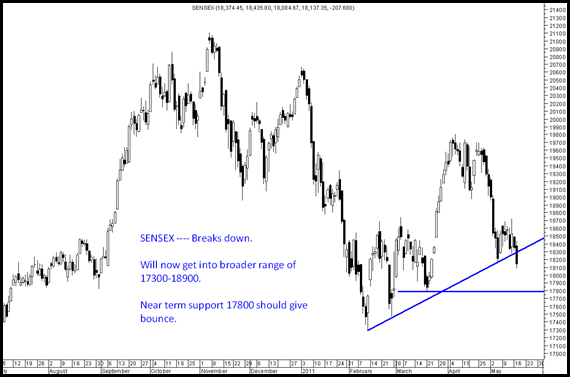 Sensex Technical View:
With two shockers like SBI results and ONGC subsidy burden the two heavyweights led the breakdown. FInally some stocks have taken the lead on downside else market was going nowhere.
The near term trendline which was holding strongly has been broken as well as recent low of 18160 has been broken.
But what has been boring with this market is there is no follow up after range breakout or breakdown.
Few days back we broke above 18700 and 5600 Nifty but it fizzled out. Similarly now we have seen a breakdown below 18160 with a low of 18084.
So it needs to be confirmed below 18080 which will confirm a move to 17800 which if breaks will take it to 17300.
This i believe makes us believe market consolidation would now get into a broader range of 17300-18800 and we may now wait for fiurther declines to lower range to look for bounce back trades. Till then it seems a boring market where one should trade with very low volumes.
Stocks to Watchout for :
Orchid Chemicals has given a breakout but with FNO ban the stock is very volatile. Closing above 320 can take it to 345. Below 300 would end the positive move.
Cummins India is a strong bet above 720-725 can give a 10% jump.
Another stock which has been our favorite for quite some time is Divis Labs. Sustaining above 725 the stock can give a strong move to 800 levels.
The Midcap segment continues to see struggling volumes with stocks drifting lower. Investors may look to now start researching strong quality midcaps/smallcaps as i expect when markets turn after June-July the bounce backs could be sharper in SmallCaps.The current boring period could be an excellent time to research stocks.
SBI -
The breakdown below 2450-2500 yesterday has negated the strong bullish breakout at 2450 on the stock which provided support many times.
The stock has turned weak with the trend being hit big time. Only hope would be it reverses back above 2550-2600 else the next support is placed at 2200.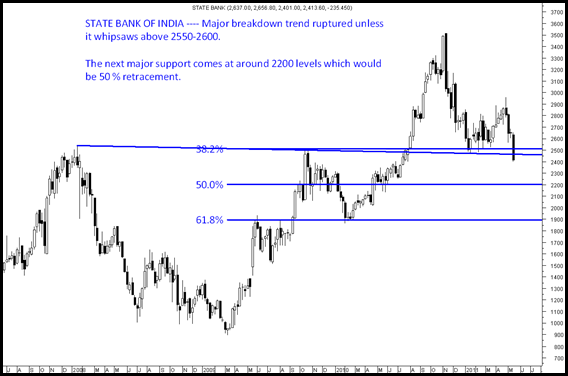 Cheers Happy Investing,
Nooresh