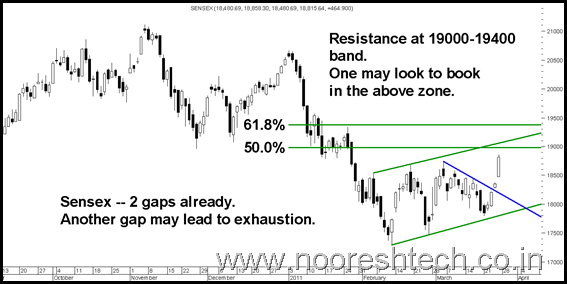 Sensex Technical View:
- > In last week it was suggested if markets hold above the trendline and 17300 the possibility of an upward retracement to 19000-19400 band remains open.
- > Index gave a breakout with a gap and followed it up strongly towards 18800 +.
- > As per the triangle pattern the possible targets would be in the range of 19000-19400.
- > Also on the fibonacci front the retracements are placed at 19000-19400.
- > Currently index has made two gap up openings and we rarely see more then 3 gap ups in one go in the Sensex. So one may expect a little cool of after the first two sessions of the week.
- > One may look to book out in rise to 19400 levels.
- > The current upmove has not seen midcaps/smallcaps rise and with the possible NAV prop up in end of March next 3-4 sessions will see broader market action it seems.
- > Technically it doesnt seem the rally may have the strength to cross 19400.
Random Observations:
-> Crude up, global issues remain, Libya, Japan nothing has cooled but Index has moved up. This clearly shows one cannot just trade a direct co-relation with news :).
- > MARCH end is seeing a lot of NAV prop up as markets did correct heavily. The trend needs to be followed in April to confirm its just not NAV move.
- > Will April bring in fresh money with fresh books and upgrades after the result season.
- > IT remains a sector not to short with a classical trap in Infosys.
Stocks to watchout for :
LIC Housing has given a breakout and should head to 220 levels in short term. One can enter at 199-203.
Some Quick Technical Picks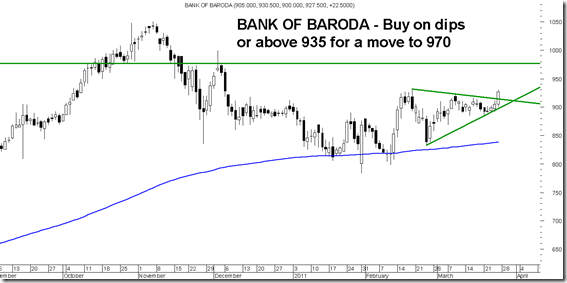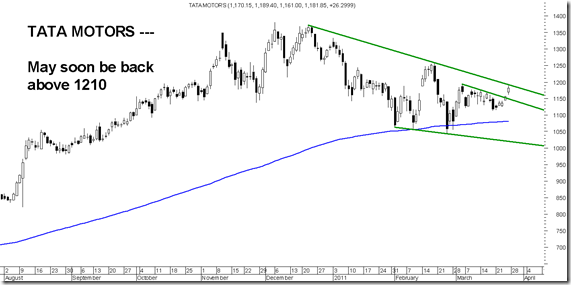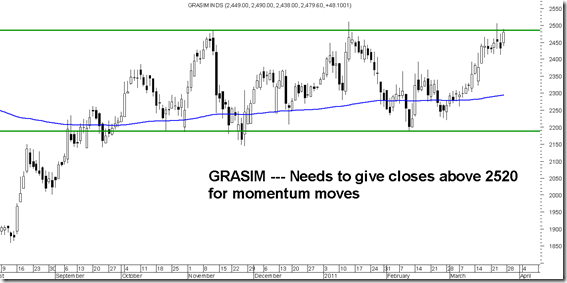 Delta Corp can see 10 % MOMENTUM move in the week as its given a small technical breakout.