My general trading style is to take short term trades on Large caps to the tune of 10-15% generally and look for major moves in midcaps.
In my previous views i have mentioned the possibility of Sensex dipping to 18.5k-19.6k levels roughly and not going below 17.8k after which there could be a possibility of a huge move over the next 6-12 months.
So as of now the large cap stocks in radar technically are –
ICICI Bank – ( earlier initiated a buy at 1040 )
On the weekly charts stock has given an interesting breakout at 1000-1040 levels which could be retested after this 10-15% jump move from 1040 to 1160.
An interesting investment if comes down to 1050 or lower.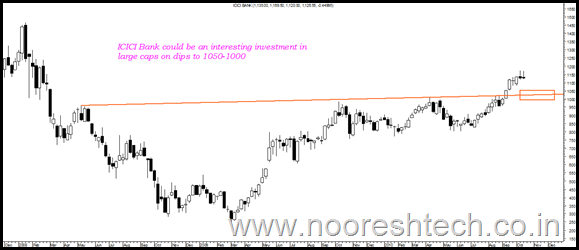 HPCL :
The stock has seen the current fall after testing life highs made in 2008.
A major breakout was seen at 450 levels. A retest of similar levels could be a nice risk-reward trade to enter.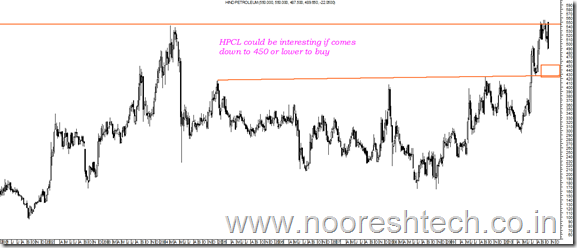 BPCL :
Similar observations but only difference is after crossing 2008 highs the stock saw a huge move.
Retest will be interesting.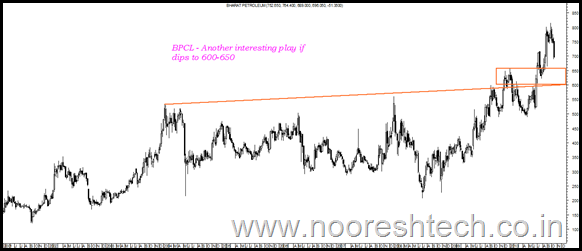 HINDUSTAN UNILEVER:
One of my favorite stocks – Earlier we took a nice trade from 240 to 265 and then 275 to 305.
Currently the stock has a huger resistance at 320 which is a high seen in 2000. Crossing a 10 year high would be extremely bullish signal to come which i expect over the next year and HUL becoming an aggressive bet.
Dips to 270-285 is an interesting defensive play which could give a surprise in next 12 months.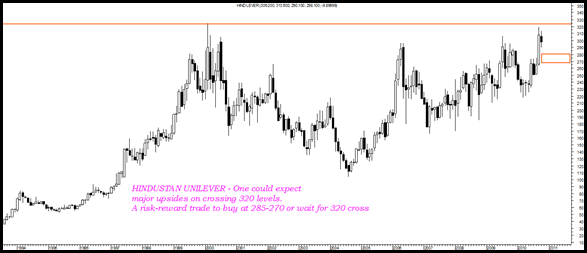 Also another stock in watch is Reliance Inds but we would need to see a cross of 1120. Will post the chart soon on it.
Hope i get time to look into the same stocks on dips but investors should bookmark this page and have a relook whenever the indices drop and remind me to cover this back 🙂
The above 4 and reliance inds could be my top 5 picks as of now but will review at dips to 19k.
For more detailed reports which will be published by Analyse India from November ( Plan to have a much better coverage and more detailed insights with a larger team)
Advisory Services – nooreshtech.co.in/services
Regards,
Nooresh
09819225396 ( after market hours only or message me if u need to talk to me )