Below are some of the good trades we went into and were recommended to the readers. At the same time a bad trade JSW energy which gave us a 3-5% hit 🙁
Sun Pharma :
Recommended at 1860 in a free SMS to all the registered readers at 1860 gave a neat move till 1980 and still holding strong. Can do 2050-2100 also. Recommended to clients at 1830 🙂 though. ( Register in the pop up box to get some trading advice at times)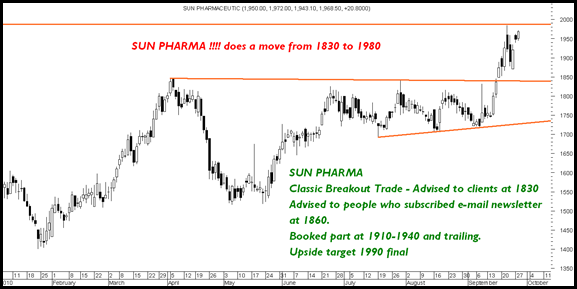 Hindustan Unilever :
We recommended this as a must pick in every portfolio and a free one to all who would like to subscribe us 🙂 - See the detailed view here - https://nooreshtech.co.in/2010/09/strong-technical-pick-hindustan-unilever.html 
Stock did a move from 275 to 310 which is a clean 10% + on  a FMCG stock. Minimum risk Maximum retains.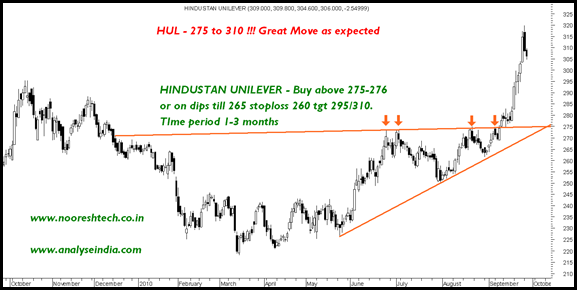 NTPC -
Another strong Technical pick recommended at 208-209 does the 1st target of 218 ! and sailing strong.
Hope people made money here too. READ the previous post here
 https://nooreshtech.co.in/2010/09/strong-technical-pick-ntpc-limited.html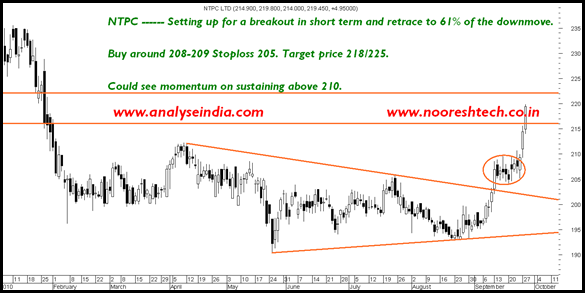 JSW ENERGY :
In trading one also needs to stay firm footed with discipline. Got stopped out at 123 in this trade. Though long term prospects are excellent short term it could stay sideways or dip till 112-114.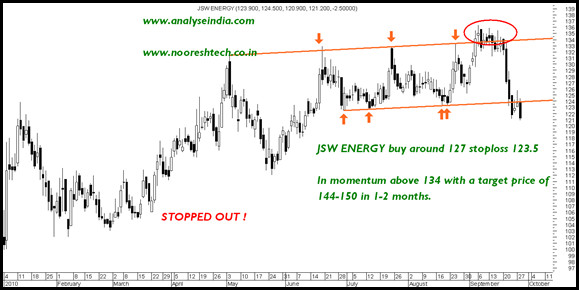 DLF :
There were hardly any people bullish a few days back. Many analysts felt that the RBI hike is a negative for the stock.
End result stock is up 10%
See the earlier post recommended - https://nooreshtech.co.in/2010/09/bears-trapped-breakout-confirmed-sensex-headed-to-20-5k-in-medium-term.html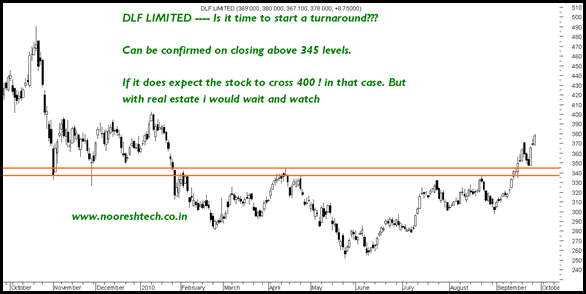 Those who would like to subscribe us can look into this link 
 https://nooreshtech.co.in/services or mail to analyseindia@gmail.com
Or can call up Asif 09833666151 to help you out select the best advisory scheme for you.