Sensex Technical View:
Yet Again Analyse Indias view is going on expected lines. As per the presentation posted few days back i have mentioned that Sensex should ideally head to 20500 over the next few months. Check the whole presentation here - https://nooreshtech.co.in/wp-content/uploads/2010/09/ThaneSeminar.pps
As mentioned in yesterdays post that breakout was seen and the follow up move clearly suggests a clean breakout with a target price of 20500 over the next 3-9 months. In my recent posts after the presentation was we would review the situation as and when 17800/17200 reaches or 18700 is crossed.
Sensex made a low of 17820 and turned around and has now crossed 18700.
As mentioned in my previous posts that we had covered at 5430. Luckily we did so 🙂 following simple technical rules.
For now the view is simple Sensex is headed to 20500 zone over the next 3-9 months can be quicker also. The breakout zone was roughly 18200-18500 levels. So any dips to those zone of 18200-18500 would be a buying opportunity with a stoploss of 17800.
With the hectic schedule and focus on Client Trades and Money management its become difficult to update the index view everyday in depth 🙂 But for more guidance one can always join our Advisory Services ( Click on Services). We were a bit leveraged in last 5-10 sessions in momentum 🙂 from today advised clients to reduce leverage and keep booking partial profits and use trailing stoplosses to ride the trend.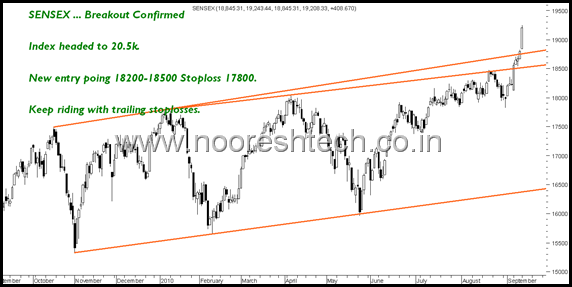 TECHNICAL ANALYSIS TRAINING SESSION – MUMBAI – SEPT 18-19
Book your seat at the earliest and become independent in your trading decisions. Call Kazim 09821237002 for more.
Also planning to conduct training sessions in Bangalore, Hyderabad, Gujrat – Please mail toanalyseindia@gmail.com if interested
Stocks to Watchout for :
ELECON ENGG --- Buy above 97 for a quick target of 110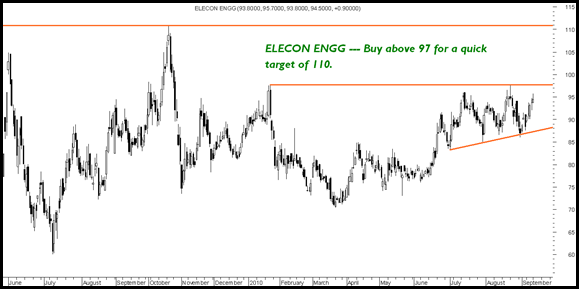 DLF : A sustained closing above 345 would get this real estate stock back in favor.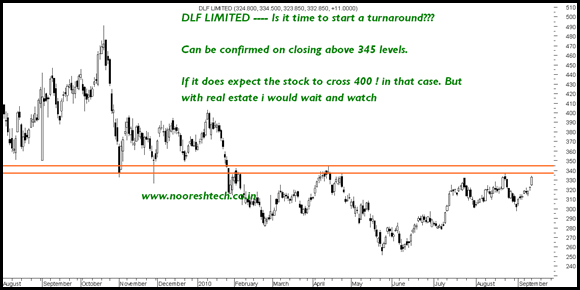 ICICI Bank as expected has given a strong breakout. Recommended at 1020 now quoting at 1100. I still expect the stock to outperform in the next few weeks. A move to 1200 wont be surprising. Keep trailing.Check earlier view posted at 1020 https://nooreshtech.co.in/2010/09/icici-bank-strong-breakout-on-weekly-charts.html 
Rishi Laser - Nice cup and handle seen on weekly charts. Interesting buy on dips to 70 for long term investors.
JSW energy can see a strong move to 150 in short term. Buy with a stop of 130.
In one of my older articles had mentioned about Value Picking in Holding companies - J K Agri has doubled up !! Bengal and Assam double. Interesting to note the holding companies are back in favor. Can watchout for JSW holdings, Ramco Inds, Rajapalayam Mills on declines. Read the earlier post - https://nooreshtech.co.in/2010/01/value-picking-in-holding-companies.html 
Many of our Small Cap Coverage stocks have hit new highs 🙂 for the year. Two stocks under study and expect a detailed report soon - Dhunseri Tea and one more which will disclose later.
Dhunseri Tea start buying token quantities for investment. People can send in their views to analyseindia@gmail.com to reduce the time of research 🙂
Cheers,
Nooresh                                                                  N S Fidai  09920120878
09819225396 ( After Market hours only)                      ( For Franchisee/Business Opportunities Alliances)
For any more info mail to analyseindia@gmail.com or call our Heads of Various Departments
Asif Poiserwala  09833666151 ( Do call him at the earliest for Advisory Services and get personalized service )
Kazim Lokhandwala 09821237002 ( Technical Analysis Trainings/ Broking – Book yourself for the next session to do analysis like what i have done above – Yes it can be done by all of us in simple manner)
Shams  09819919725 ( Intra Day Calls for Stocks/Nifty )