Find attached below the Presentation done at Thane.
Has a few additional stock recommendations 🙂
Sensex Technical View:
Sensex hit a new high for the year today and suddenly people on the street are not ready to believe it :). Well i had mentioned about the way broader indices have already given a breakout in July ---
Many of the people have been eagerly waiting for the update on Sensex after todays move --- Everyone has the question Market Kya Lagta Hai ?
Answer :
Market accha hi lagta hai. As i have been mentioning my favored scenario is 20500 being reached in the next 6-9 months. Downsides to 17800/17200 were mentioned. We did see a dip to 17800 confirming the minimum dip needed.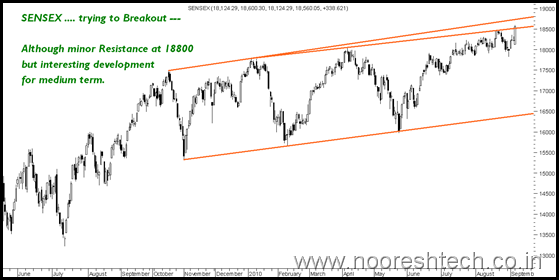 Now let us look into Sensex Technical Observations :
1) Price Analysis suggested a topping out scenario around the higher end of the channel at 18400. We did see a top around 18475 but the dip only retraced to 23.6% which came around 17800. The expectation was anywhere between 17800/17200. Sustaining above 18600 will suggest a good breakout situation !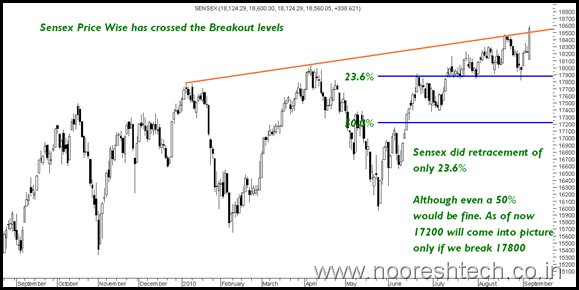 2) Time Analysis
In the last moves between 15500-18000 the upmoves were for 40-45 sessions and downmove for 20-25 sessions roughly. This basis made us time the markets exactly last few times.
This time around Sensex has already surpassed 75 sessions which clearly indicates the Pattern of Flip Flop is no more and we will have a big Directional Move in coming months.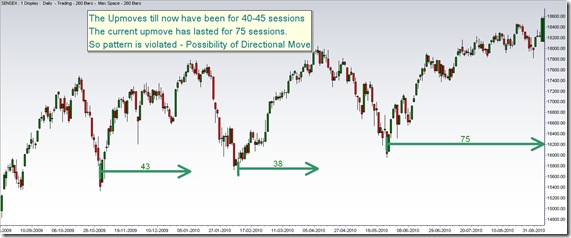 3) Classical Pattern Analysis
In the last 1 year market has been in Parallel Channels. As of now we can confirm a breakout for the index once it starts closing above 18600 levels. The Channel size has roughly been 2500 points.So if we consider the breakout then Sensex should go towards 21000 over the medium term on confirmation.
In the near term we have a solid bottom base at 17800 which makes a simple stoploss for medium term 🙂
As of now its a higher top higher bottom formation.
Till we dont get a drop below 17800 we may continue to go with the trend 🙂
BottomLine:
Many of us may feel valuations look stretched !! - Is it because they were highly suppressed a year back at 8-10k levels ? Or is it the hangover of the big drop in 2008 which is keeping everyone cautious and fuelling the current rally?
Well as a Technical Analyst i am not supposed to answer the above questions 🙂 and stick to what the Charts Tell. So till i dont get a negative signal from them will continue to stick to the Bullish View.
Will review around 18800-19000 which remains a short term resistance. Previous top after the fall of Jan 2008 is around 18900. Short term trendlines around those levels.
Ideally a time wise review comes around Sept end.Till then Enjoy the ride 🙂