Just a month back when Sensex hit 18000 around 3rd week of July which was suggested way back at 16000 levels in a detailed presentation it was assumed that its time to sitback and be on sidelines.
Well Sensex indicated a possibility of topping out or coming in a riskier zone! Even i was in the same camp and at one point of time we had gone on a high cash strategy !!
But if you notice in the last 3 weeks i have been consistently mentioning to focus on Midcaps and SmallCaps to outperform. ( Although i had been more bullish on the Midcap segment at 16k too)
But checking out the two Midcap and Small Cap Indices made me change the view from being on high cash to being Long Midcaps/SmallCaps with a Short on Nifty as a hedge worked superbly well.
The Midcap and Small Cap indices zoomed 5-7% higher then the equivalent highs of 18k.
On the other hand Nifty Shorts gave good trading moves from 5450 to 5380 twice and right now we are short at 5530 roughly with a stoploss of 5570 and Long on 5700 cal / 5300 put which would profitable if Volatility increases. ( Option Premiums are at lowest levels)
So were u left looking at the Sensex and missed out on the SmallCap/Midcap Rally where stocks gave 30-50% returns then dont you worry we might have some more but this is not the time to JUMP IN 🙂
Let us check the charts below to make the view clear.
BSEMIDCAP INDEX:
The index is up 10% from the highs made in April and 5-7% in last 1 month.
Our focus on Midcap Banking Stocks – Lakshmi Vilas 80/98 to 125 , Dhanlaxmi 145 to 180, Karnataka Bank, Vijaya Bank, Uco Bank the list is endless !!
Technically the target levels would suggest another 2-3% upside till 8000-8100 before a pause comes in but the point is we might be on the higher end !!
So time to be very selective as when the sentiment is good ANALYSIS and RESEARCH takes a back seat :). Momentum is good but it can shift on either side pretty quickly 🙂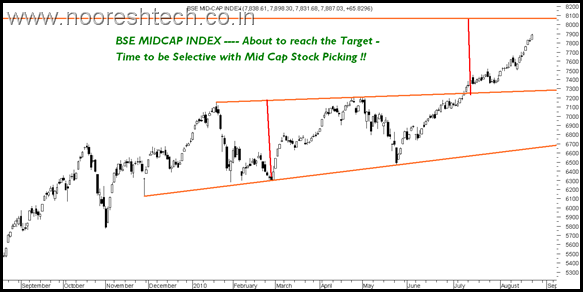 BSE SMALL CAP INDEX:
Although Small Cap Index is still to catch up with the super run up in midcaps but we are seeing lots of unknown stocks up 20%.
Although i try to cover lots of interesting Small Caps in my reports but even a speculative trade like Birla Cotsyn written at 0.9 is up to 1.45 on ckts with ads coming on newspapers and TV channels !! which is alarming.
Technically though there might be lots of steam in smallcaps but one needs to be very selective and Stop LISTENING TO TIPS/INTERNAL news.
Like every punter does ask kya Khabar hai --- Our answer in such times  has been KHABAR se sirf Kabar khudti hai 🙂
Now lets us look at Sensex which is struggling on the upper end of the channel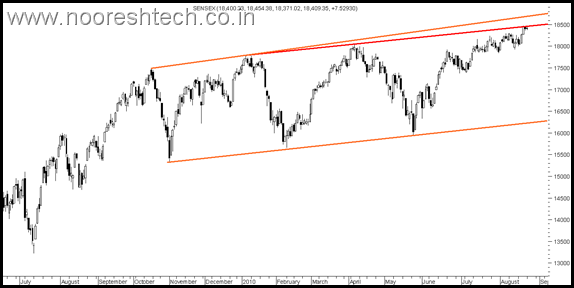 BottomLine:
There is still some steam left in Midcaps/Smallcaps in near term. Although i would continue with my trading ideas but would suggest traders/investors to be stirct with stops as well as be selective as quality stocks will continue to perform !!