Sensex Technical View:
In my posts for quite some time that to short roughly in the range of 18300-18600. Check this post at 18500 Article at 18500. So index traders may have got 100-150 points on Nifty.
The support levels mentioned were 18100/17800 in near term. Todays low at 17820 and subsequent recovery suggests the importance of the level. Last 3-4 bottoms have been in that range. So we can expect some pullback from these levels.
If we break 17800 would imply the markets enter a 50% retracement to 17200 levels also.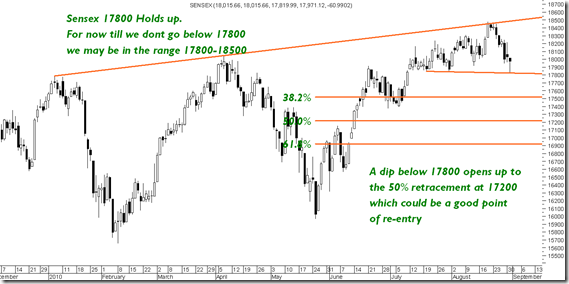 Nifty Technical View:
Similarly for Nifty had mentioned about 5550 being a stiff resistance.
For now the recent bottoms have been around 5350 which is still holding up.
A break below the same opens up to the 50% retracement to 5150-5170 levels.
For this time around we booked profits a bit early at 5450 as we took a 40 point upswing trade also.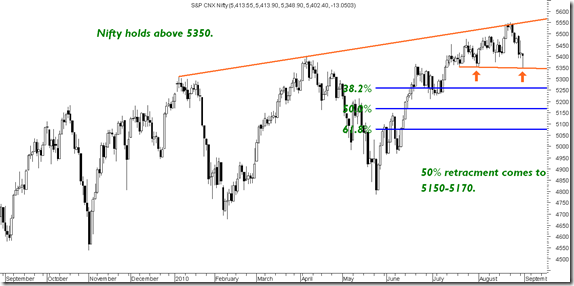 BottomLine:
Increase cash in the portfolio.
Continue to hold cash in portfolio - ( roughly 20-40% depending on investment style)
Wait for more clarity in coming 2 weeks. Be ready to re-enter at 17000-17500 if it comes or as when markets give turnaround signals.
One has to realize that at some point of time one can go wrong in the market and its only discipline which keeps us long enough in the markets. So as advised continue to avoid leverage totally at this levels.
We will have a re-look at 17200 or as and when we see a turnaround.
Stocks to watchout for :
Have had a few bad picks in last couple of weeks but that have been down 5-10% but we as investors/traders have started finding a 10% hit difficult to digest suggests that people are going on leverage or not diversiffying.
For example Kaveri Seeds is down 10-14% suppose if its 10-15% of my 10 lakh portfolio that would mean a hit of 1-2% max on the portfolio which should be digestable if it is not then one needs to look into diversification and strategy.
GAIL looks strong and interesting. Buy with a stoploss of 440 or on sustaining above 472  with a strict stop of 460. Target Price 490-515
Cipla looks weak and if closes below 300 can go all the way to 275/260.
Reliance Inds as had mentioned could see some weakness below 960 has cracked to 915 levels. In near term the stock could do 910/860 also. Investors only with long term can buy part quantity now wait for 860 if comes.