Sensex Technical View :
The biggest question now for the index is whether it will pause after such a super move from 16000 to 18500.
For now as we see from the charts there is lots of resistance in the band of 18400-18700. From the channel pattern in last few months that shorting around the upper end of the channel has been profitable. ( Though this time around i dont expect a dip to 16k again but a breakout on upside – Check the detailed power point posted on this link )
But at 18400-18600 the stoploss for shorts would now be 18700 and downsides possibly to 18100/17800 for near term. So the risk-reward clearly fits for the bears.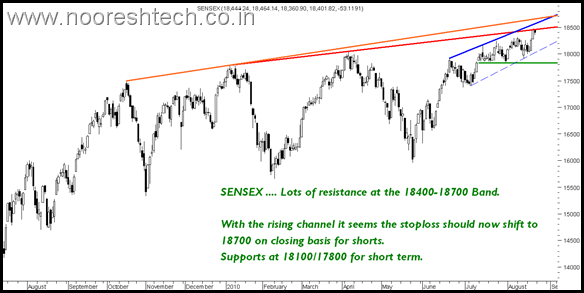 Nifty Technical View:
Although most of my analysis is generally based on Sensex as the spikes are a little less out there.
As we see here the resistance band is 5540-5560 in near term.
Stoploss would be 5570 as sustaining above that could lead to a quick move to 5700 also.
Disclosure: We have been shorting and covering at dips for now – Last few trades 5450-5470 to 5380 and then 5450 to 5390. For now shorting advised at 5520-5540 stop of 5570 Strictly.  Also the shorts acta as a good hedge to stock specific longs which are doing decent.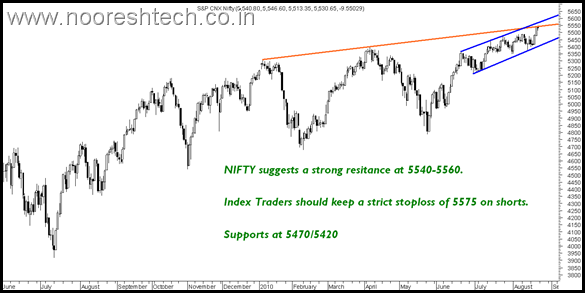 A short term trend change could only be seen below Sensex 17800 and Nifty 5360.
Medium Term uptrend would change to bearish below 16700 which is 61% retracment of the current upmove roughly.
Long term Investors need not worry till the lower channel at 16300 is not violated.
As i have mentioned a possibility of the index first dipping and then heading towards 20500 we would review the position if Index crosses 18700 or when it reaches 17800.
So for the coming week will continue to focus on Stock Specific Trading Ideas till we dont see either of the above levels.
Cheers,
Nooresh