This is one question which i have not been able to answer in this weekend.
If it tell people that i expect 20500 odd and 6150 odd on Sensex and Nifty and thereafter a decent correction. The next question pops is uske baad to ghirega na. Should i average my position or exit my position. 
For now my technical view has been the same that Sensex trend has changed highly positive and the target implication is 20500. Let us look into the technical chart below to get a cleaner view.
As for me whenever i have to take a trade it doesnt matter to me what position i have ( For example when looking into the portfolio there is no buying price mentioned in the excelsheet) So every decision is dependent purely on current market condition.
For Nifty my technical target is 6150-6200 as one can see from the channel. But at these levels one can look for a long but the risk-reward is not favorable as we may have just a 100 pointer upside but downsides we never know with such a huge move.
In the last few days index has not broken the lows made day on day. Till it does not give such a signal i have no reason to short. For now such a level is 5930.
In simpler terms at 6150-6200 i might have a decent risk-reward to take a speculative short. Or below 5930 might have a short term trend signal.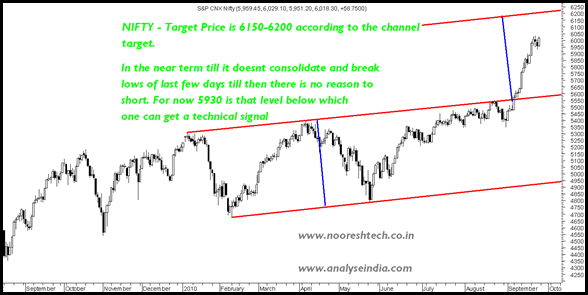 Although this may not answer the question I am Short on Nifty,What should i do?
The only answer to it why did you go short.
The answer to this is how does one get into the trade - For a decent trader below is a checklist. 
Although this might be a quick one as every trader has over period of time evolved a intuitive process.
1) Reason to Trade
2) Conviction/Probability of success as per system.
3) The Opportunity
4) Risks Involved
5) Sizing up the Position
6) Time
7) Relative Opportunities and Review
Will look into the detailed approach in my next post 🙂 not much time left on a monday morning 🙂