The last time we gave a detailed presentation on our website was on May 21 2010. In our ARTICLE we had shown a chart with a view that Index would turnaround from 16000-16400.The title of the article was – Time to be Optimistic not scared. We were the only few who were bullish for 18k to be crossed in JulyJ and the low made was 15960 very close to our view !!! And now we are at 18000-18500.
Recently in our free seminar in Mumbai we had mentioned about a huge resistance around 18400-18600 and we are continuously seeing a dip coming from that zone.
Also we had discussed the possibilities for the Sensex in next 2-3 quarters. After almost a year of range bound move we expect the markets will see a major directional move which should ideally take the markets towards 20500 or 14500. So investors need to be ready to face the big move possibility. Below,I would discuss the all three possibilities and the one which we favor.
Sensex possibility one 🙁 We favor this one )
Sensex dips to 17800-17200 zone and turns around totally to head towards 18600/20500 over the next 2-3 quarters.
Strategy: As being mentioned to keep increasing cash at 18400 and avoiding leverage should now look to deploy the same at 17200-17800 range slowly with a stoploss of 16900 on closing basis.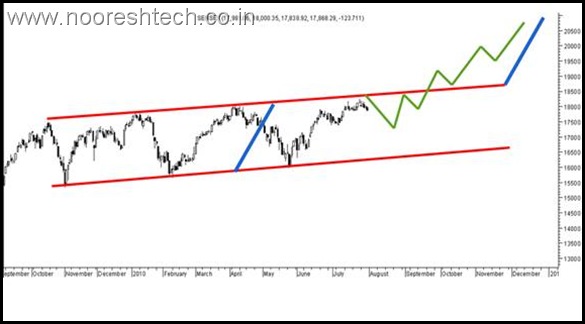 Sensex possibility Two:
Sensex dips to 17100-17400 and bounces back sharply by a few hundred points and then starts the major decline towards 16500/14500.
Strategy: Sell only when after the bounce back of a few hundred points or on break of 16900.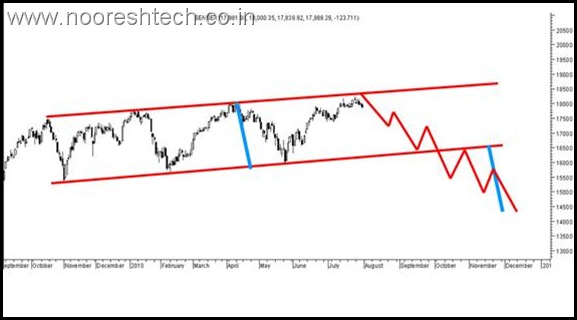 Sensex possibility Three :
Sensex maintains the range of last 1 year and dips to 16300-16500 over the next 1-2 months and then back to 18900.
Strategy: Wait for a drop to 16300-16500 to build long positions. And we have been perfectly timing this range so nothing to worry at all J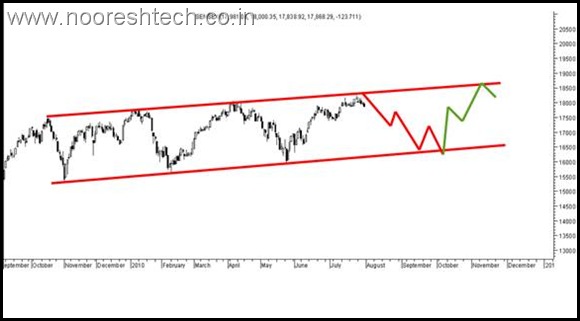 We will review the above scenarios in our weekly posts as and when we reach 17800/17200.