Yet again i am back with a new set of stockcharts.Due to the time constraints wont be able to give follow ups so stick to the stoploss as well as targets to book profits. Lakshmi Vilas has for example done the move from 98 to 125 !!
JBF Inds:
The stock has given a fresh breakout at 146 and should head to 165++ levels in short term. Earlier the stock was recommended at 100-110 on the blog.
Fundamentals are pretty interesting so risk is low and high returns.
Disclosure:
Recommended in Delivery Gains/Short Term Delivery at 140-144 ( got 6 rs dividend too ).
Maintaining hold for 165+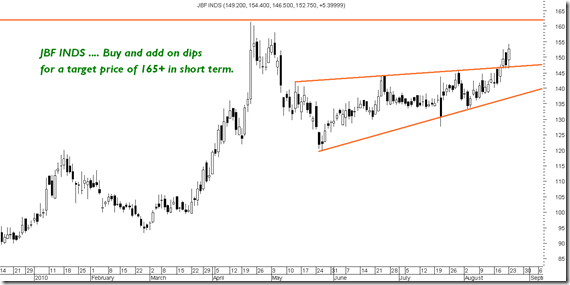 Nicholas Piramal:
Another stock which can surprise possibly wth a favorable announcement.
A good technical trade on sustaining 512 levels. Target price of 540/580 + in short term. Downside risk is low.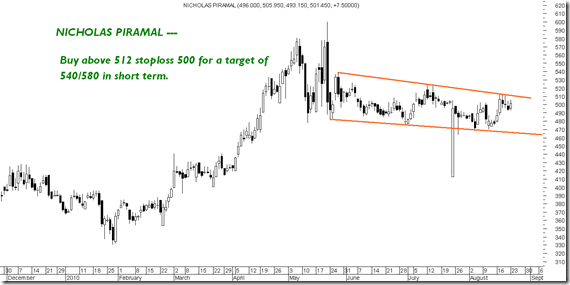 SIRPUR PAPER :
The stock looks excellent on the Enterprise Valuation but the volumes dissuaded me to look into small cap coverage. But will surely have a re-look after the current move to 75 subsides.
At 100 crores market cap it seems to be one of the cheaper stocks in paper segment in comparison to the huge capacities they have built up though performance has been bad on earnings.
In near term the stock should head to 75+.
Disclosure:
Recommended in QuickGains Premium Service at 63.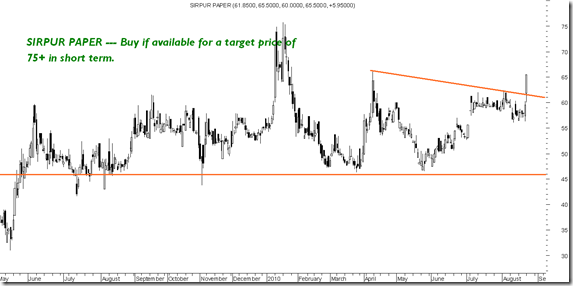 Laskhmi Machine Works:
The stock has been in a tight range for last 6-8 months. Has given a breakout and will catch more power on crossing 2250 levels. Expect a move to 2500 +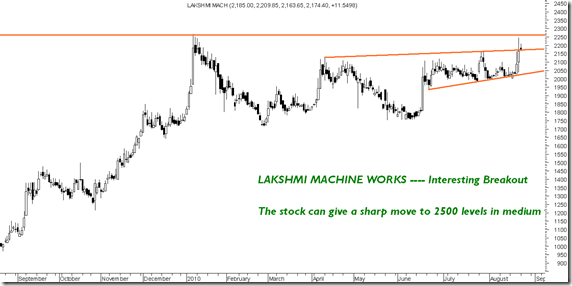 For more of our services check https://nooreshtech.co.in/services or speak to Asif 09833666151 to help you out
Cheers,
Nooresh 09819225396 ( After Market Hours in case you are looking for personalized services or more details)