Yet Again i have been forced to ask this question.
Many a times i get questions that Technical Analysis doesnt Work !
Well i would rather say – Quite a lot of Technical Analysts dont know how to Work or Analyse!
I would reserve my further comments on the views given by many other Technical and Fundamental Analysts at 16k sounding full of pessimism and not even caution !!. ( Very busy of late with something coming up)
As always we stood out with a firm stance of being Optimistic ! at 16k.
Below are the two charts which would show how precisely can Technical Analysis be able to look into the probable moves with a high degree of precision provided one does simple logical technical analysis. The whole reason for this last chart was explained in a detailed ppt of 15-20 slides.
Also this analysis is what i call Before and After Advertisement –
Before -
1) All the so-called technical analysts shout for a possible big correction in Markets. Fundamental Analysts pull in justifications for a crack with high valuations
2) The Newspapers is full of PIGS and DOGS 🙂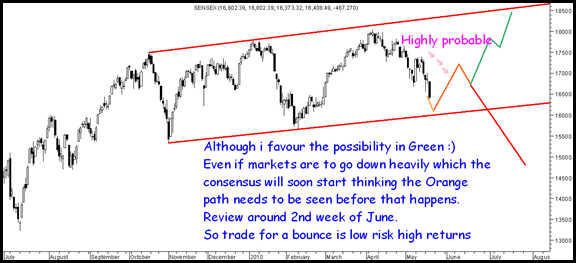 After-
1) The Technical Analysts suddenly start getting a bit bullish at 17.5k should now shout for new year highs. Fundamental Analysts start justifying excellent IIP nos and factoring in excellent June quarter nos.
2) The Newspapers is buzz with easing Euro Fears, Chinese Yuan etc.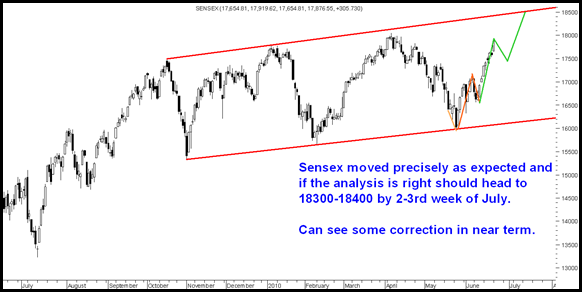 Simple Honest Technical Analysis !!
If you would like to learn this simple approach to trading and investing independently then do enroll in one of our courses at the earliest. Next one is in Delhi on June 26-27 !4
I would again suggest all the readers to forward this post to all their friends,colleagues and spam it so people get aware of technical analysis and good work done on this blog which is free for all. Also it does take a lot of my time too:) so pull in a few of your minutes to recommend this 🙂