First post on the new BLOG – which is now a self-hosted wordpress blog. More customizations are going to come on this. Hope to see more comments and interactions from readers.
In the last few months there have been many new IPOs which have been buzzing on the exchange.
Huge amount of speculation goes on in them with a daily delivery percentage of 5-10% only.
Although good speculators can make a lot of money out of it but the risk is equally high and the normal retailer generally tends to lose a lot of money speculating in these stocks.
Last i had warned people about ThinkSoft at 525-550 levels that soon it would be dumped to retailers.
Check the link here - https://nooreshtech.co.in/2010/02/some-market-buzz.html
Some days back had similarly warned on Texmo pipes at 140-150 levels. The stock is down to 90s which is a good 30-40% crack for somebody stuck at higher levels.
Check the chart below.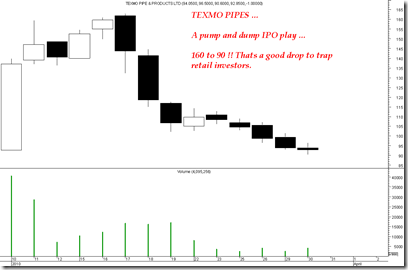 Although there were other examples like Emmbi Poly,ThinkSoft and many more. There are certain stocks like ARSS Infra which have given super returns after listing also and are decent companies.
Maybe Syncom Health could go the ThinkSoft way as per market circles. It would also be taken higher but dumped eventually…
Bottomline is --- You can make a lot of money and lose a hell lot of money in these stocks ---
Better options are available in the market so i would advise people to avoid unless they are game for high risk 🙂
Regards,
Nooresh