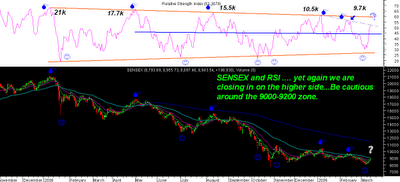 The last time i discussed on the RSI indicator was around February 10. Sensex was hovering 9600-9700 and had indicated to be cautious as the markets may be a little overbought on indicators.
Yet again RSI at times a late or a very early indicator is back towards the higher end of the range. 
In the chart i have symbolized the important tops and the corresponding RSI levels. Also bottoms and RSI levels. The last couple of times we had discussed about positive divergences at 12.5k to trade, 
Sensex may soon get into an overbought zone in coming sessions. On the daily charts 9100-9250 is a good technical resistance zone. So traders can take a cautious approach once we get to that zone. 
Indicators remain overbought also for quite some time so we would rely on technical patterns to conclude exact trading levels which come to roughly around 9100-9250 as resistance only a strong closing move beyond this could target 9700 +. But the simpler approach is to take caution right away.