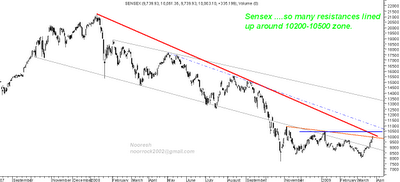 Sensex Daily chart -- Since Jan 08 

Lets list down observations. 
-- The orange line which is the short term trendline has been crossed and will be a positive sign if we stay above for a few sessions. 
-- The red line joining Jan -Aug - Sept tops comes close to 10200-10500 which now becomes one of the most important resistance zones. 
-- After October crash the pullback tops were 10945 /10470 and 9725. The current move has made a new high top ( still on )  in this series of lower tops.  The next important level comes to 10500 which may be very difficult to cross. 
-- If we see its a triangle pattern yet again but we did break the same at 8600 but the lower targets were not achieved and Sensex reversed from 8047. So yet again we are on the verge of a triangle breakout but can we rely that this move can achieved targets is a difficult proposition. 
Horizontal levels of 10500/10900 become crucial in this sense. 
--The possible breakdown from the triangle which was seen at 8600 made the consensus shift to 6k-7k zones but confirmation would have been below 7700  and now it has crossed 10k and consensus can shift to 12k-13k but we should wait for 10500-10900 be taken of for that confirmation. 
-- The grey channel shown has been resisting all pullbacks ( 10945 /10470 /9700 /9120 ) and upmoves stalled closer to this level. Also the break below this channel had surprised everyone with a huge fall in october to sub 8k levels. 
-- Now Sensex is back into this channel and the upper end of this channel is 13k !!. The move below  the channel at 11-10.5k gave a sharp drop can a sustaining move back into it give a surprise rally to 13k !! wishful thinking . 
-- On the time analysis front 50 sessions are over but Sensex did not reach a new low. We have never seen more then 6-7 green sessions. Also all the impulsive downmoves to new lows have been retraced ( reaction moves )  back fully and in lesser time. ( 9725 to 8047 and 8047 to 10000 is faster ). 
So we are seeing some reduction in the BEAR power as per the time patterns. We may turn positive only when we see Bull power ( reaction moves become faster ). So next dip and pullback pattern is important to watch for that. Shown in yesterdays fractcal dow chart.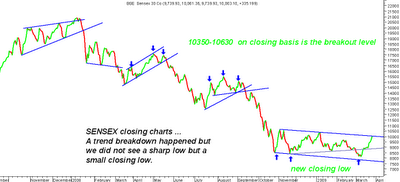 Sensex Closing Chart since Jan 08 :

If we follow the old school of technical analysis ( Dow theory ) we need to look at the closing charts. 
--Every breakdown pattern starting from a rising wedge in Jan  to channels , HnS , triangles has been shown. Every instance has led to a new low which is deep enough. 
-- This time around we did breakdown from a triangle which led to a small fall but it could only create a new closing low near to down channel which did not break. 
-- Now the index is back to the higher side of the channel or triangle formation. The breakout levels for the same are 10350/10630 on closing basis. The width of the channel is roughly 2k points. 
-- Earlier the market consensus shifted to 6k-7k because of the 2k channel size and yet again technically if it crosses 10630 on closing basis the index should technically head to 12k-13k levels. 
Conclusions simply based on technical observations :
-- The last breakout level was 9100-9250 which implied a move to at least 9700 -9980 as seen in our last view  and that was achieved.
CLICK HERE TO CHECK THE POST. 
-- Now yet again index is at a breakout zone of 10500 which if crossed with momentum or stays above for 3-4 sessions index should try towards 10900 ( prev top ) /11600 ( fibo and ema) /13k(channel). This alternative remains in place for next few months. 
-- Sensex if reverses from 10200-10500 resistance zone then it may retrace back to around 38/50% of the move at least and come close  to the support lines ( 9500-9700 ) and breakout zone ( 9100 ). The big downmove alternative comes into picture only on break of 8800-9100 zone. These are just rough figures and we may look into exact levels once we can confirm a short term top. 
--- Things to watch for would be how Sensex reacts around 10200-10500 resistance zones and watch for turnaround signals or an out of the blue momentum move. Let the markets decide the next move from this zone and follow it then to pre-empt it. 
This is just a plain technical view as usual. Readers can post their comments/observations. 
PLANNING A SESSION FOR BANGLORE INTEREStED PEOPLE MAIL TO noorrock2002@gmail.com. 
For details and queries call up after market hours.