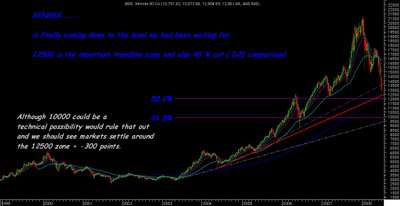 Sensex Technical View :
In our earlier view in the presentation it was said we could also be headed to 12500 zone in case of very weak sentiments. Technically its a correction for entire bull run and such corrections can go to 38/50/61 % ! ... Was expecting it to settle around 38 % or worst case near to 50 % retracement which is around 12000. The very important trend line for long term comes near to 12500 and also our comparison with Dow Jones which has been part of our initial study at 8k tells that such a correction would see 40 % cut of from high which again comes close to 12500 ! ...
So technically one can expect a bottom formation around this zone . Although technically even 10000 is a possibility it would be weird to expect fundamentals take such a back seat .
In last couple of days it was stated if Sensex sustains below 13500 for 2 sessions we would see a swift correction to 12500 levels and investors are better of waiting for that levels then to hurry.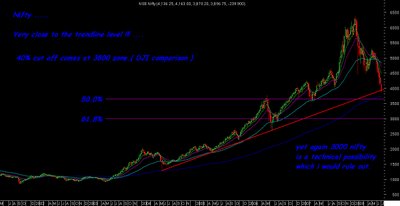 Nifty Technical View :
As we seen in the chart above it is very very close to the trendline . 3800 is the similar crucial level for Nifty + - 30-40 points. Also 40 % cut of comes to 3800 and 50 % retracement comes at 3600 ( 12000 Sensex ) . These are crucial levels for Nifty where one can see a bottom out scenario .
Now according to classic market knowledge all bear markets end with a scenario called as final capitulation . Such a fall in the ending has no fundamental base or stocks would go to distress levels similar to euporic highs where its more liquidity pressures . There can be no bottom in sight in such a scenario but such a violent fall doesnot stay for long and investors have to staggered and go value buying .
Currently it seems indian markets are into the final stage and in such a scenario its difficult to find an exact bottom but historically its seen long term investors who buy fundamentally sound stocks in such scenarios would benefit the most and lay investors would totally exit !!! ( all those stuck at mkt highs ) . We would see such pressure in next 5-7 sessions where we could see all the pressure settled down.
We made it a point to repeat to exit/generate cash at 17500/16800/16100 and warn about a possible deeper correction and many of us readers would have aptly used the warnings and are now in a position to use the investment opportunities coming currently . Although the street would turn bearish , sentiments would weaken same people who were gung ho at 17k would shiver at 12-12.5k but long term investors should now go ahead buy what they like ( avoidable sectors discussed before ) and be patient as recovery would be slow but the upside potential is very good in the longer run compared to the weakness in near term.
All the real estate stocks have cracked big time as expected and i still dont understand how to value them or to find a bottom . If investors tracking particular stocks have inputs can definitely share them as although the sector is in a rut there could be certain good companies.
Stocks to watchout for :
Lots of stocks look good with a long term view at current juncture
Safer slow moving stocks in large caps --- RPL , RIL ( good at 1950-2050 ) , IDFC ( 85-105 keep buying )
Mid caps -- Karuturi Networks ( 17-20 ) , Renuka Sugars ( 80-90) zone look good for very small exposure with 1 yr view .
There are many stocks which look good and will be discussed in coming days.
Large cap sectors to avoid real estate , private banks , Capital goods . ( as not settling down )
PSU banks , Pharma, Metal ( Steel on declines not now Hindalco around 125-130 is fine ) , IT ( on declines ) , Reliance and RPL on current n dips . Mining ( Sesa Goa at 2700 is good )
HAVE POSTED OUR QUICKGAINS NEWSLETTER SENT TO CLIENTS ON THE LINK GIVEN BELOW WHERE IN ADEQUATE GUIDANCE WAS PASSED AS REQUIRED !!!
For technical view presentations
https://www.4shared.com/file/52292941/78ee58d4/QuickGans_Technical_Analysis.html
https://www.4shared.com/file/52348854/4c2c005d/KAL_AAJ_aur_KAL.html
To subscribe to exclusive newsletter and messenger /sms services check https://analyseindia.blogspot.com for details
Best Regards,
Nooresh
09819225396