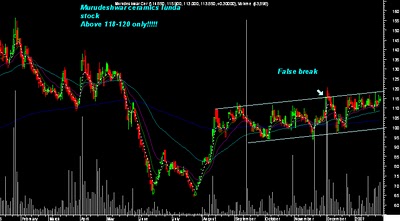 MURUDESHWAR CERAMICS
Another stock which was hard sold by people at higher levels as a funda pick ... I like the stock frm 45 levels months back gained frm it...
The stock has much more to go if you look into its tiles ka brands ... a sidekick to infra story .,..
Technically it is facing resistance at 115-118 levels...
We would wait for a decisive break over 118 -120 levels to go for it so keep check has tendency to hit circuits ....
PITTI LAMINATIONS

( cmp Rs .84)
The stock was recommended as an investment pick on Monday 22 Jan on blog along with Mcleod russel( good result)
Next we see is on Wednesday 24 Jan

GOLDMAN SACHS

picked up nominal 50000 shares in the stock... We are no way responsible for that...
The stock was recommended at higher levels of 120 levels by many broking firms ...!!!
At current levels its cheap if you believe them...
But technically we like it only above 88 for quick targets of 100-125 +++ ... Accumulate till 80 with stop at 76 for patient funda investors...