New iOS in Markets - Indian Options Speculators.
There has been a huge surge in Retail and Proprietary trading in Options and more specifically in Index Options.
The Data & Charts below are just Crazy and getting crazier.
1) Retail Participation went through the roof in 2021
Some Moderation now in 2022-2023
Retail in Cash Market From 3 cr in Jan 20 to 11.7 cr in 2021.
Retail at 3.2 cr participants  March 23.
3x jump in all participation from Jan 20 !!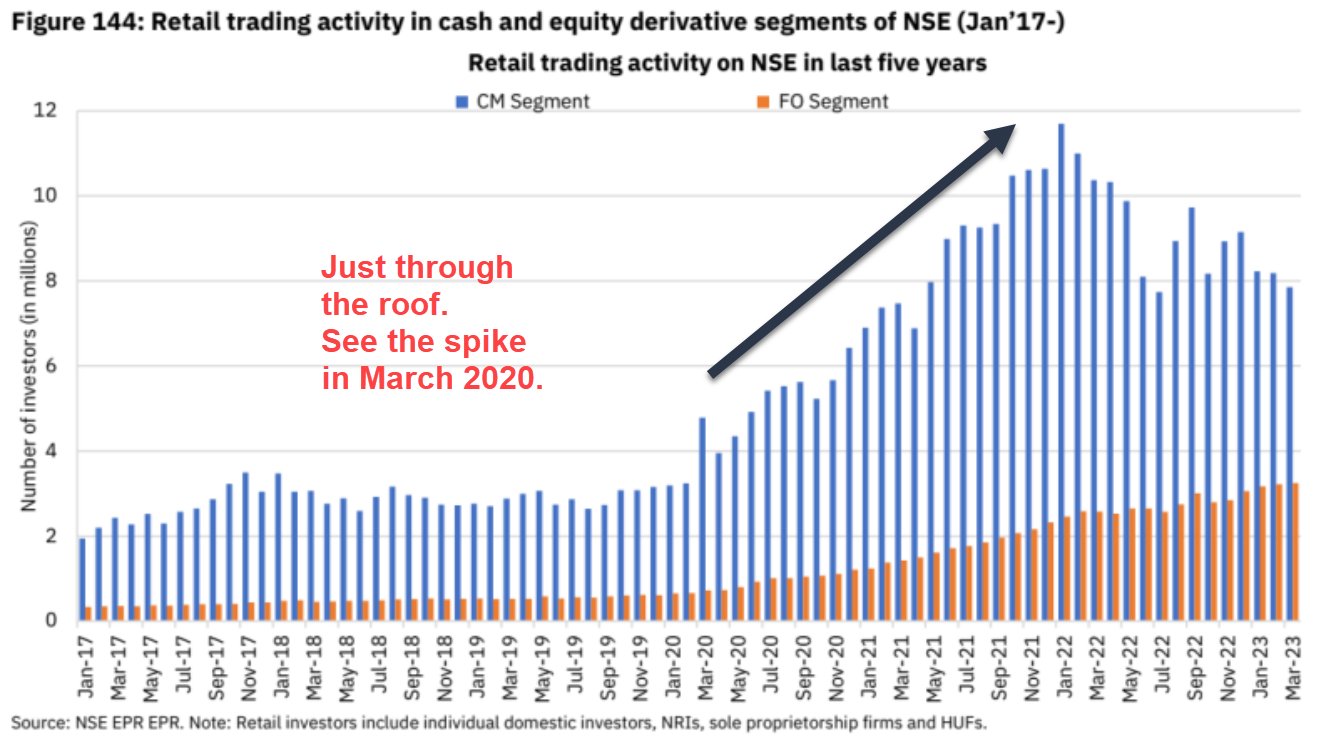 2) Everyone is an Option Trader
FIIs are just 9.5% of Index Options Premium Turnover !!! From 21% in Fy20.
45% is Domestic Prop ( Broker trading on its own behalf )
35% is Retail.
Retail + pro = 80%
Retail is almost 4x of FIIs.
Btw FIIs own 20% of India.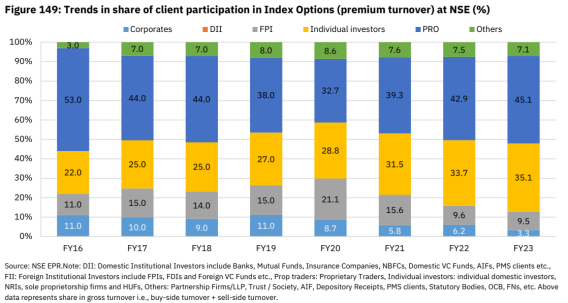 3) Pro are propping up the Trading Volumes in Equity Derivatives .
On a notional turnover, 53% of the Volumes is PRO accounts.
Brokers are now Traders or Traders have turned Brokers ?
FIIS are just 7.4%
Retail at 27%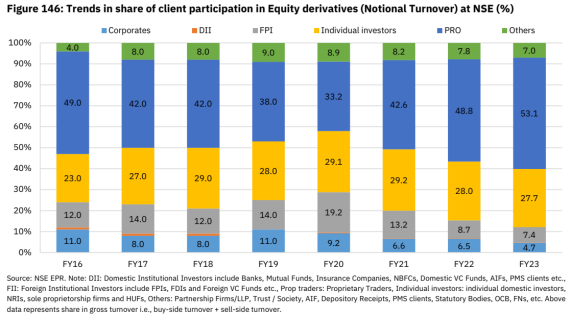 4) The Indian Options Speculator is an Indexer
For all the talk about Index Funds & ETFs the data suggests Retail is all in on Index Futures instead.
31.7% of Index Futures is Retail and 34% is PRO
FIIs at 11.8%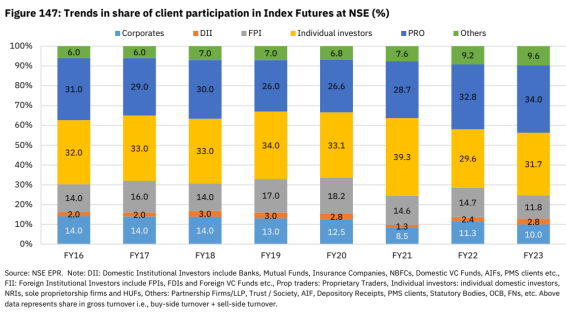 5) Retail is shifting from Futures to Options
StockFutures sees a major cut in Retail participation.
From 31% of Volumes in 2018 to just 15.6% in 2023.
FIIs continue to be at 23-25%
DIIs at 8.5% thanks to the ArbitrageFunds and TaxBenefit.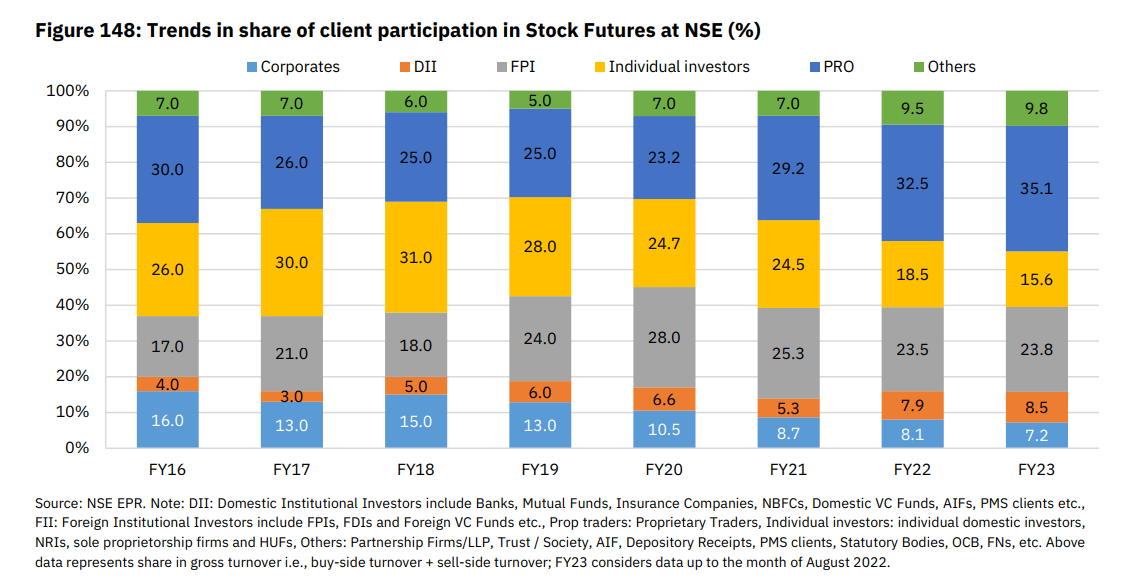 6) Stock Options is all about the PRO and Retail
56% of Volumes by PRO and 31% by Retail.
FIIs are just 3.1 % .
Repeating, FIIs are just 3.1% of Stock Options ( Premium Turnover )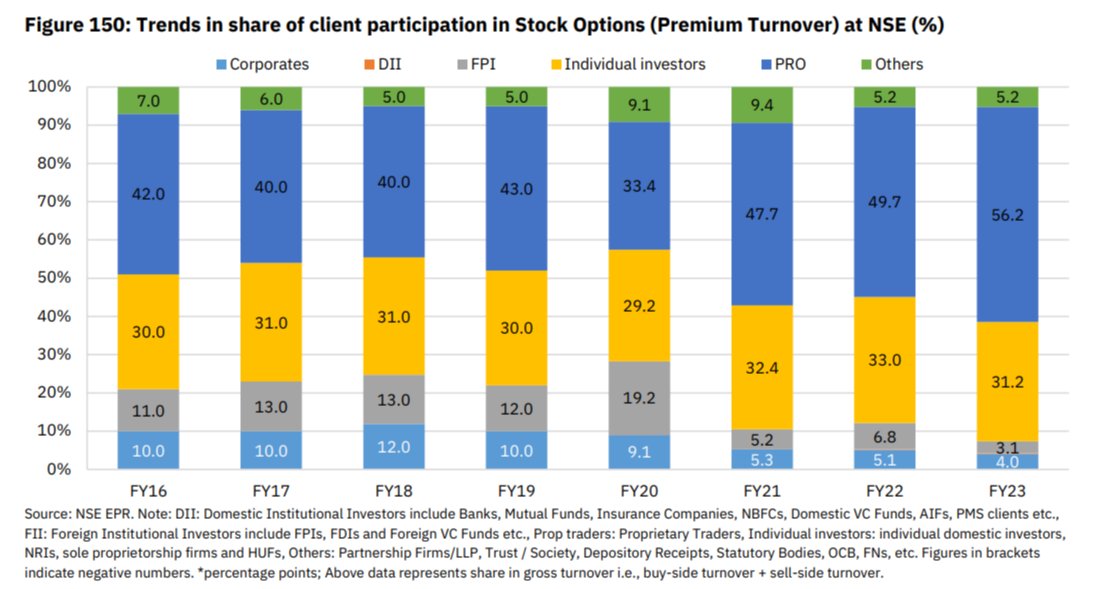 7) The Machines are fighting it out.
51.5% of Volumes of Equity Derivatives and 33% of Cash Market is via Co-Location.
17% of trades via a Mobile in cash Market. It peaked at 25% in 2021 !!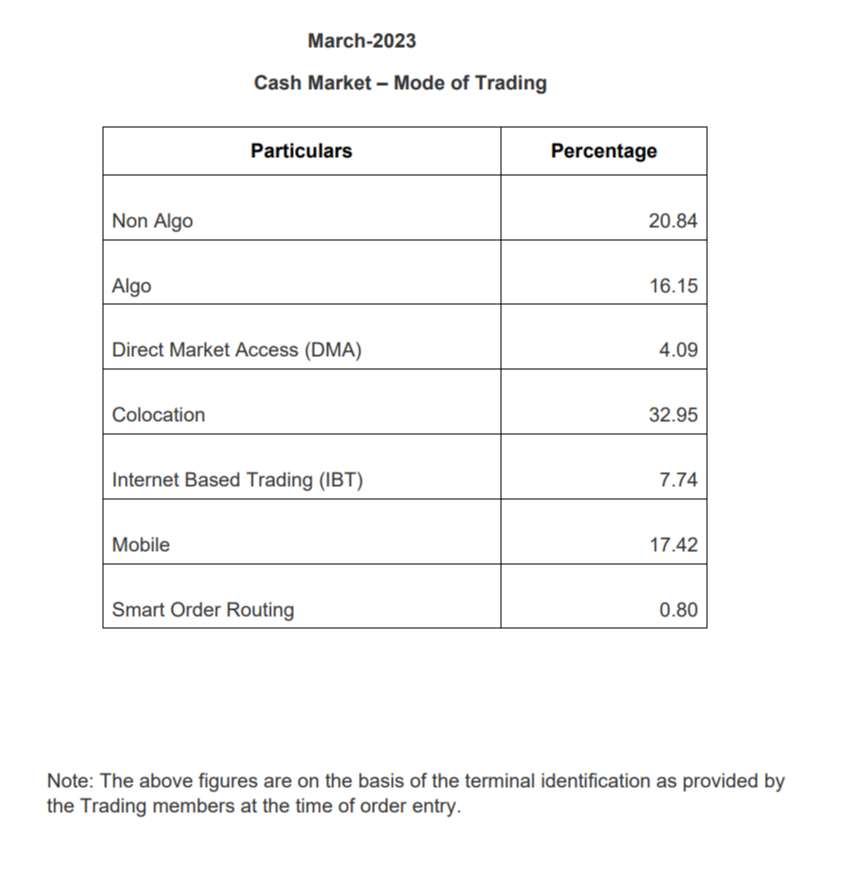 8) Capital Market still has FIIs DIIs and Retail slugging it out.
PRO is 27%
Retail is 36.5% from a peak of 45% in FY21.
FIIs at 15%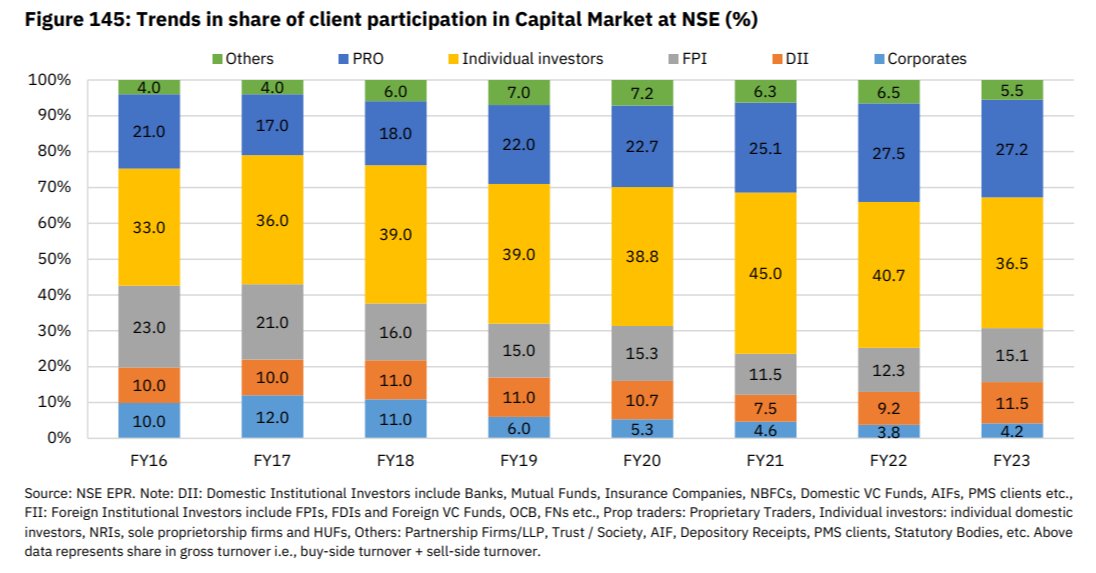 9) Couple of odd ones
SURAT just beat the Rest of India in terms of Cash turnover of Individuals in March 23 with 6.3% of Volumes !!!
Mumbai continues to be the largest
Equity Market AUM crosses Debt Market in Mutual Funds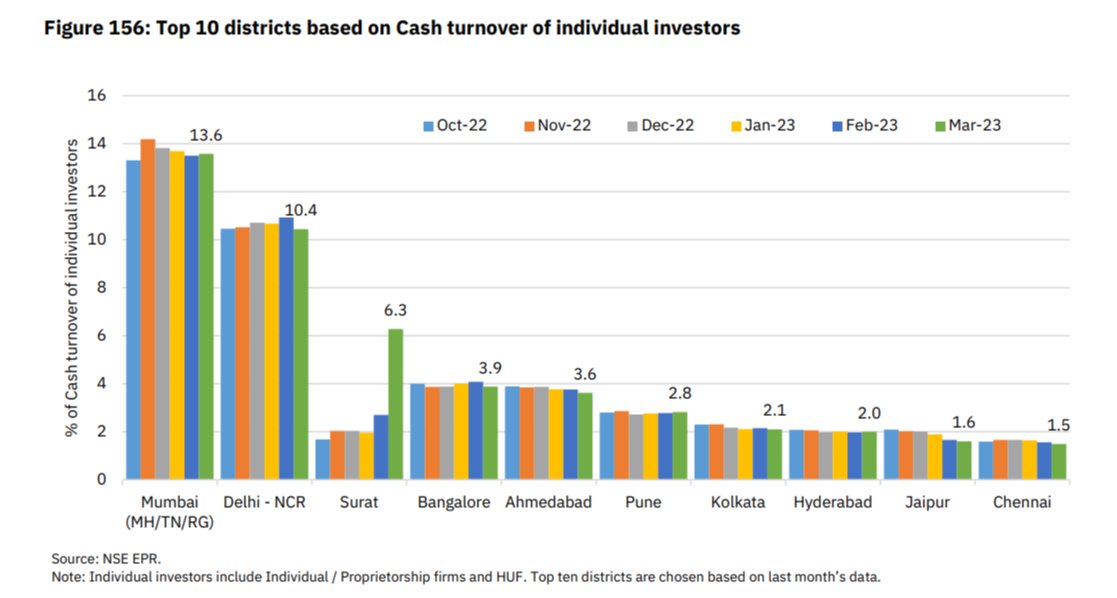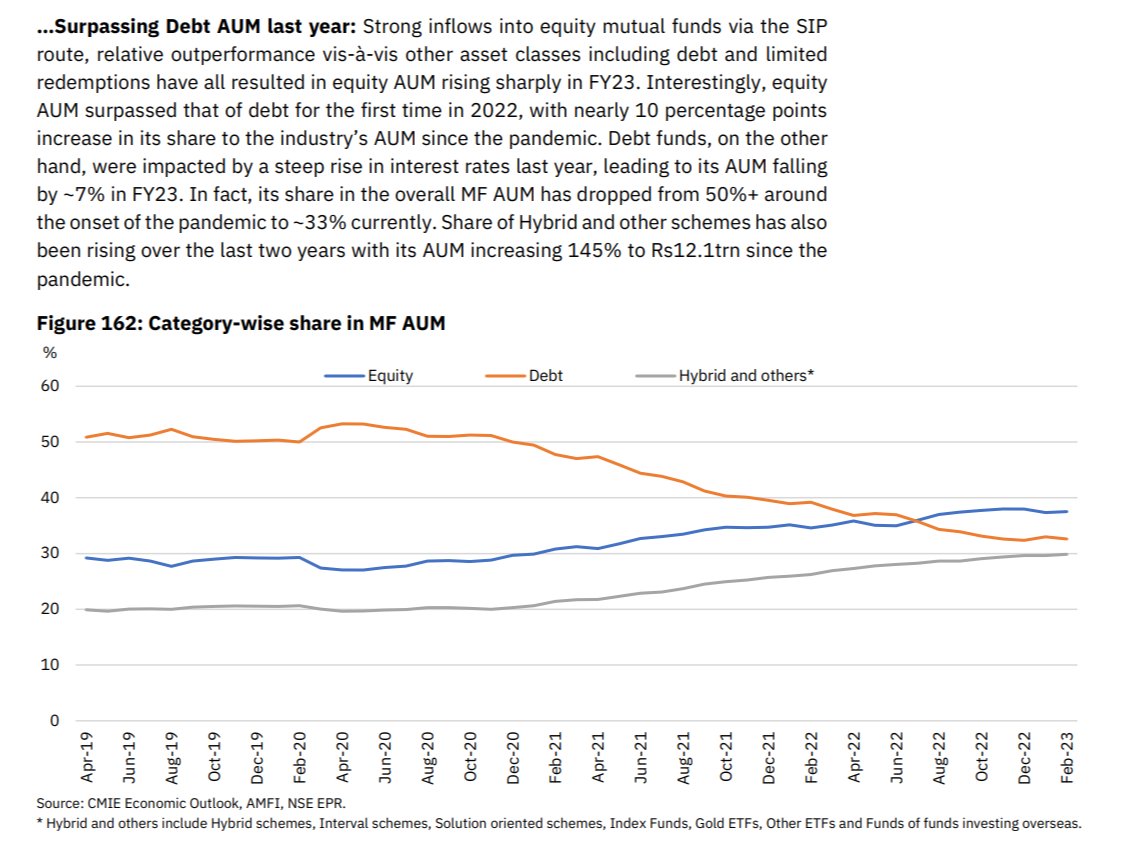 10) Retail participation is increasing in a big way. More in Option Selling 
Mind you Leverage is the toughest way to make money and the easiest to Lose it All.
I just hope a lot of Retail does not have to learn this lesson in a tough way with Volatility going berserk.
A lot of things are not in your Control.
Outages can be everywhere.
A lot can create volatility. Remember a 15 min Lower circuit in 2012 due to a Freak order by a Broker.
Control your Size and Leverage. Be conservative.
Link to our premium services
Technical Traders Room : https://nooreshtech.co.in/2022/07/technical-traders-room-a-broadcast-for-traders.html
Insider Trading Updates : https://t.co/kf7GKzYJIU
Technical Traders Club : https://nooreshtech.co.in/quickgains-premium/technical-traders-club
Quickgains Cash & FnO : https://nooreshtech.co.in/quickgains
Smallcases : nooreshtech.smallcase.com