Lets see what has happened in last one year in Nifty whenever the US inflation numbers have come out
US Inflation data release dates
Jan 12, 2023 (Dec) - ????
Dec 13, 2022 (Nov) - 7.11%
Nov 10, 2022 (Oct) - 7.75%
Oct 13, 2022 (Sep) - 8.2%
Sep 13, 2022 (Aug) - 8.26%
Aug 10, 2022 (Jul) - 8.52%
Jul 13, 2022 (Jun) - 9.06%
Jun 10, 2022 (May) - 8.58%
May 11, 2022 (Apr) - 8.26%
Apr 12, 2022 (Mar) - 8.54%
Nifty Gap up / Down and % change after US Inflation data release

-
As per the last few readings, it is observed that the US Inflation numbers has an impact on our market the next day
Now let us see what has happened in Nifty in the next few days of the data release ?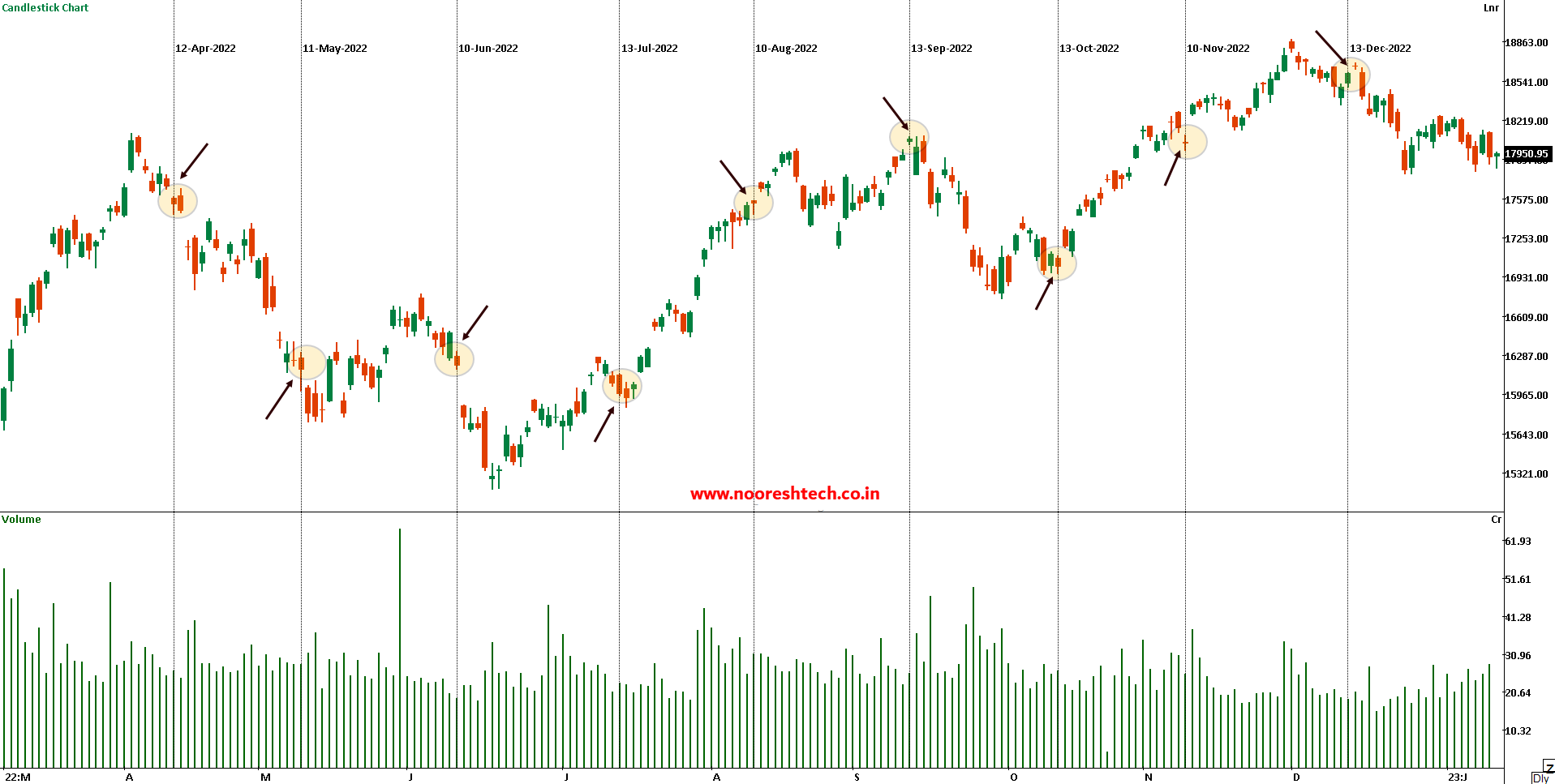 -
While the next day's moves are impactful but are these swings coincidental?
Anyways the one thing this chart suggests is US INFLATION numbers matter !!
The next one is due on 12th January 2023 i.e. Tomorrow. Data will be released at 7 p.m. IST. So the impact of which will be seen on our markets on 13th January 2023 (Friday)
If we can break 17700-17800 or 18200-18250 post the numbers that can lead to a swing move.
We came out with a Research Report - Market kya lagta hai? where we have highlighted few trends in Domestic Indices, Sectors and Stocks
Do buy it for 1499/-
https://www.instamojo.com/noooreshtech/market-kya-lagta-hai-trends-in-indices-secto/
Charts and view shared in the report:
Nifty 50
Nifty 500
Nifty Mid 100
Nifty Smallcap 100
BSE Smallcap
Nifty Bank
Nifty PSE
Nifty IT
Nifty Auto
Nifty Infra
Nifty Metal
Few Ratio Charts
Sector on Radar: Sector 1 and Top Picks
Sector on Radar: Sector 2 and Top Picks
Sector on Radar: Sector 3 and Top Picks
Few other stocks from smallcap / midcap space
In total we have covered 14 stocks (Targets, Stoplosses along with the Technical Charts )