Market Moves are not a direct co-relation.
For example a Good Result can also lead to a Bad Price Fall & A Bad Result can lead to an Upper Circuit.
Its always market expectations versus reality and that's why Price to Earnings can also mean Price to Expectations !
In the same way Budget Day reactions are also similar.
Lets take an example.
Budget 2016 – Rumour of LTCG Tax. Reality no LTCG Tax.
A couple of links before Budget – Link1 & Link 2 talking about LTCG Tax coming in.
No LTCG tax. ( It did get introduced by the same Finance Minister in 2018)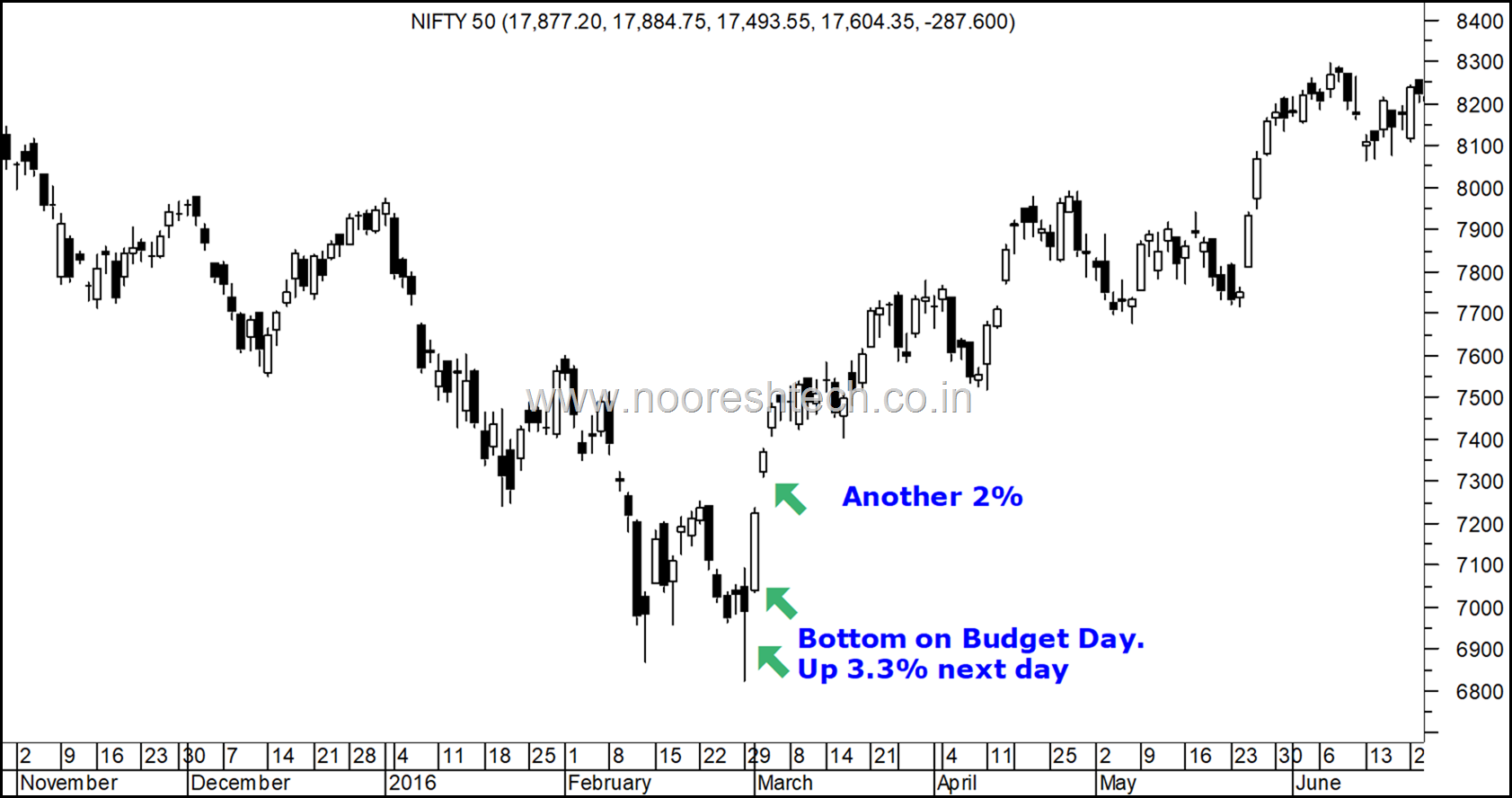 Interestingly Global Markets including Dow bottomed on 12th Feb. Nifty retested same bottoms.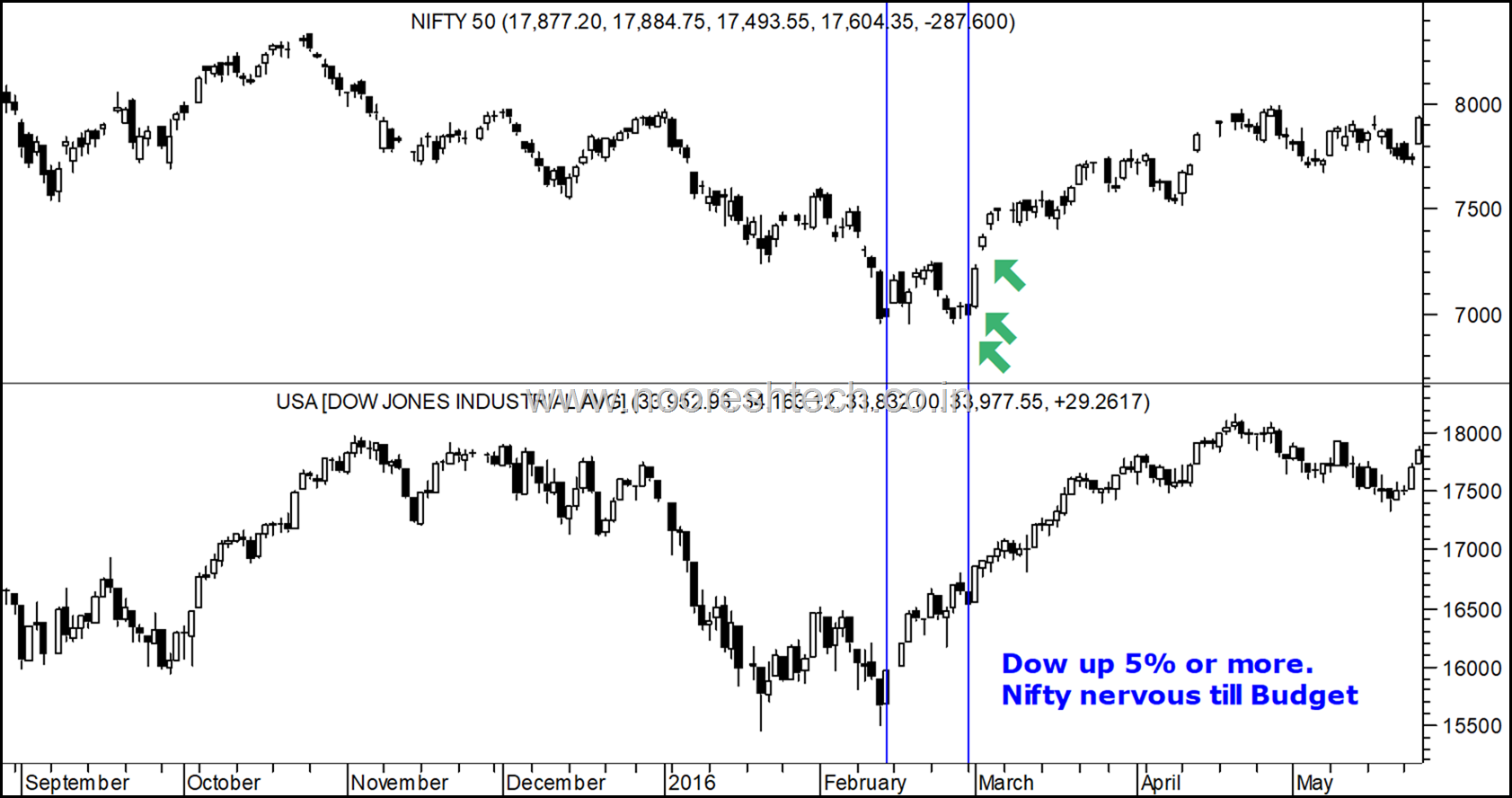 I vividly remember as I did a presentation titled Beg Borrow Steal and Invest on 13th February – Check Video Recording Youtube Link
Budget 2018 – LTCG Tax not discussed. Reality 10% LTCG with Grandfathering.
Rumour was of a possible Inheritance Tax or Wealth Tax or Estate Duty but #LTCG got announced.
Nifty almost closed flat on the Budget Day.
Next day was down 2.3% . Smallcap 4.6% down. Smallcaps downtrend continued.
Even the Dow Jones cracked and made a short term top.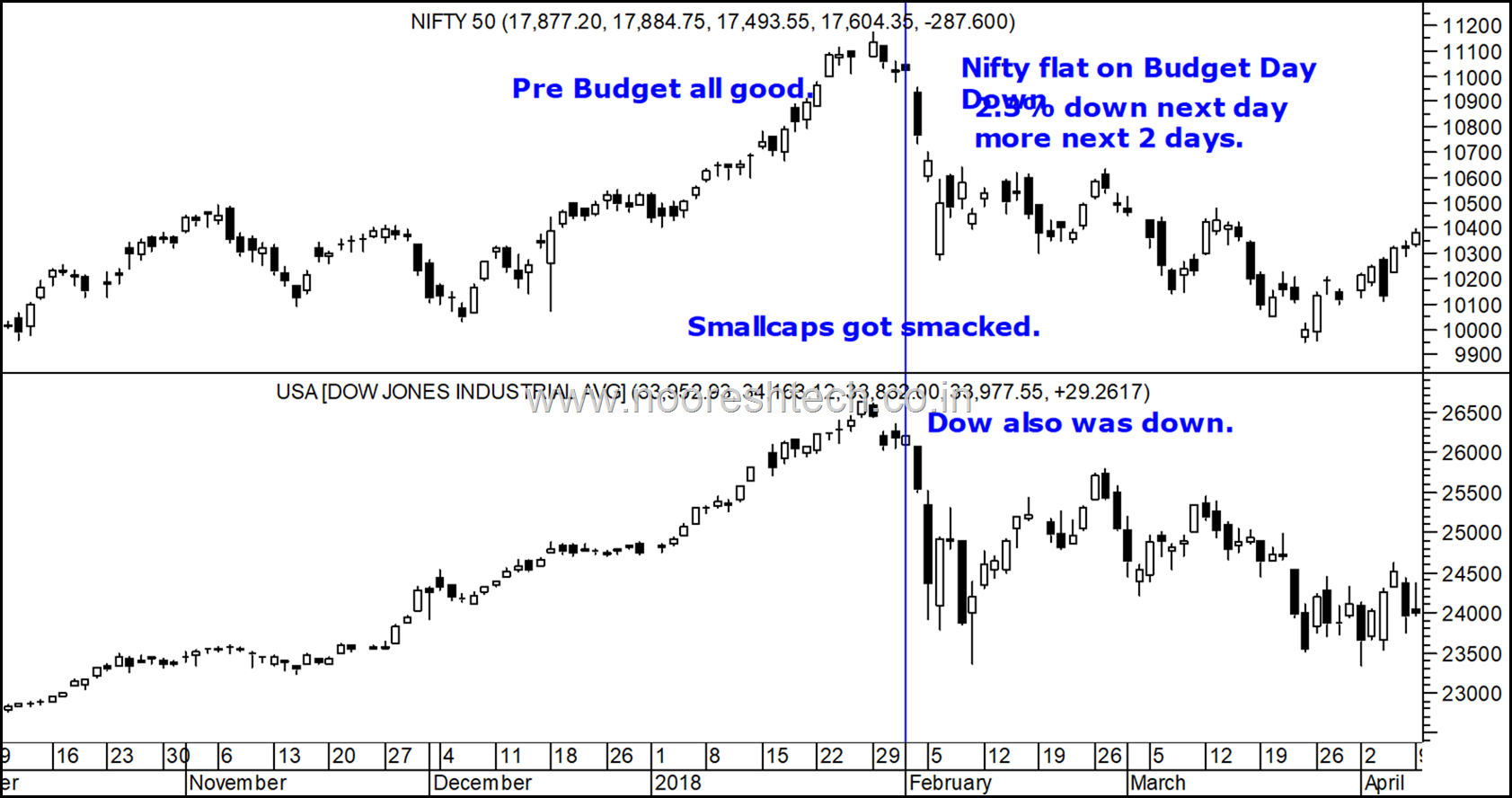 Budget 2021 – Rumour of Covid Tax. Nothing major came out.
Nifty up 4.75% up after being down 5 days going into Budget 2021. Link for Covid Tax possibility
Another good day after that and back to tracking Global Markets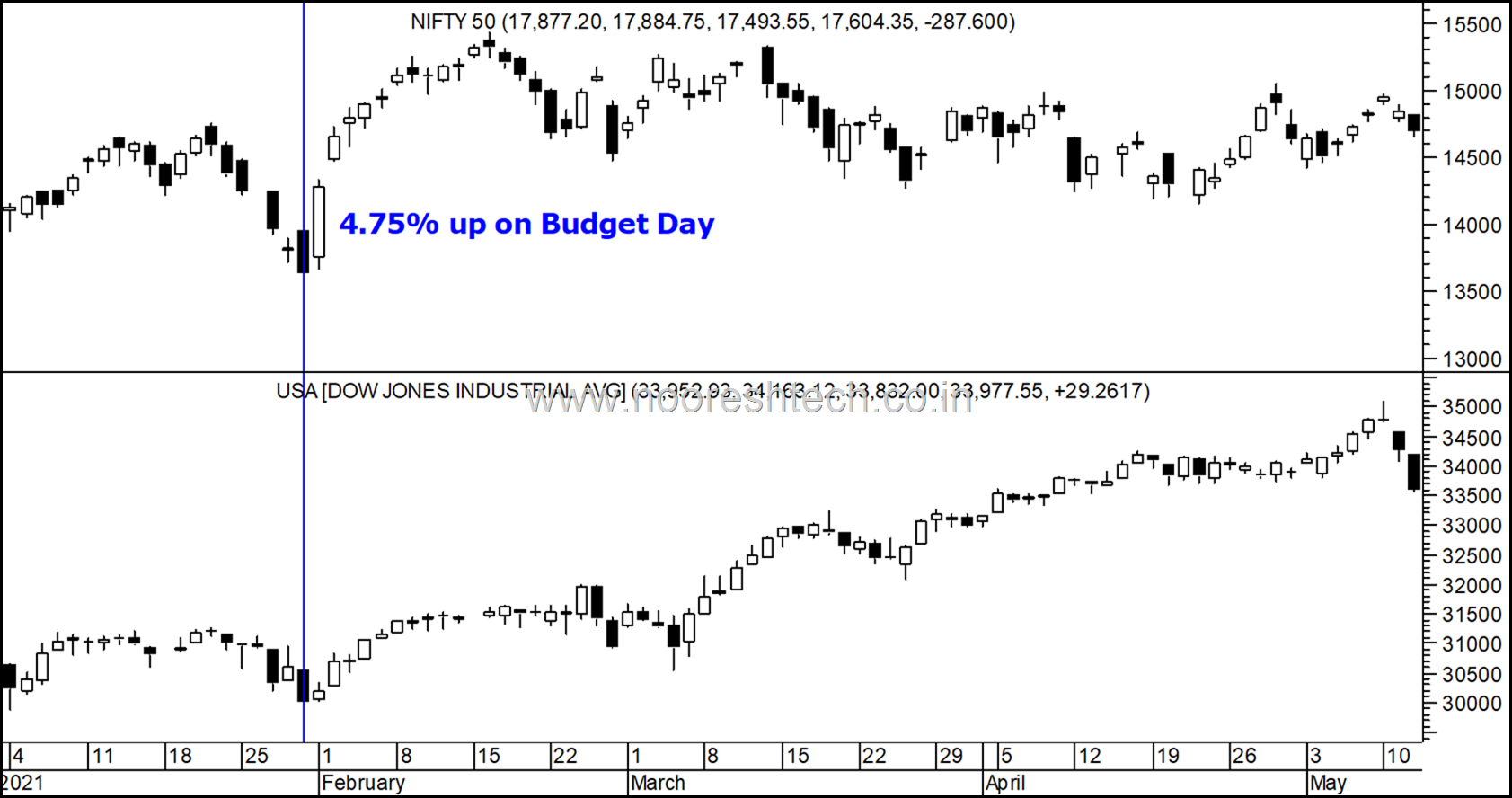 Budget 2023 – Rumour of LTCG 1 to 3 years. Lets c what comes.
The last 2 days have seen a sharp correction on the back of weak sentiments with Adani group.
The drift has been going on for last 1 month compared to other Global Markets.
All Global Risk Parameters – Dollar Index, S&P 500, Dow Jones, European Indices, Emerging Markets looks Positive to Neutral. Even the USDINR , 10 yr GSEC India have not seen any reaction in last 2 days.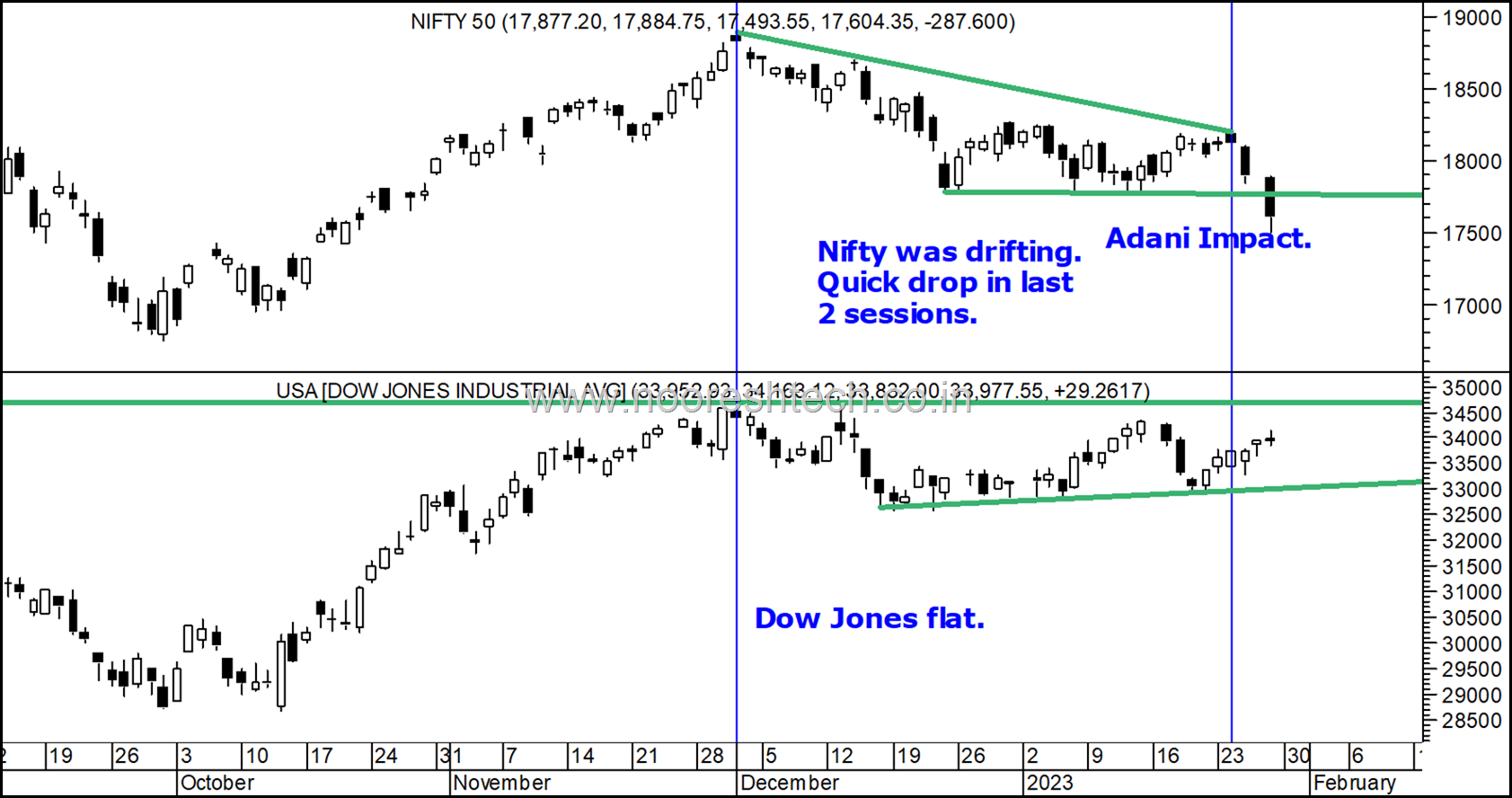 So what happens post Budget 2023.
Smallcap Indices are already close to Sept-Oct and Dec lows. That is an equivalent of 16800-17000 Nifty.
Unless something like an Inheritance Tax or a major shift in LTCG, STCG comes .
A good possibility is markets can go like 2016 or 2021 reaction ( No Bad News = Good News ) . The current FM has a tendency to surprise ( Remember Corporate Tax Rate Cut.) Possibly we get some benefits for the Middle Class Income Tax Payer.
My View
Technically 17300-17550 is a strong support zone. Not expecting a test of 16800-17000 zone.
My personal view is Positive at current levels with more focus on Smallcaps/Midcaps. Can surprise on Upside Post Budget.
The markets are not as oversold as 2016 or in Strong Momentum like 2021. Else it would be a Conviction Long Entry in next 2 sessions.
So would keep deploying fresh money in coming 2-3 days. But as a trader would get aggressive post Budget.
Learn Technical Analysis with Nooresh Merani – Feb 11-12
Announcing Live Cohort
Learn Technical Analysis with Nooresh Merani
2 day live session
11th - 12th Feb 2023
9 am - 6 pm
Hosted on Zoom
Early bird offer at ₹9999
Curriculum / Offerings / Joining Link
https://www.upsurge.club/live-cohort/technical-analysis-with-nooresh-merani
Timepass Tweet to End
#AdaniEnt Public Opinions but No Shares. #AdaniEnt = 2.53 lakh shareholders Dec 2022. March 22 2.2 lakh shareholders owned 0.66% of Equity Rest 595 owned 98.47% of Equity. 10 lakh advance booking #Pathaan. Choose what u want to discuss 🙂 #WeekendTimepass.