I had recently recommended Balaji Tele - https://nooreshtech.co.in/2015/07/balaji-tele-will-it-be-a-breakout-or-false-breakout.html
Also a #disclosure the stock was recommended in Technical Traders Club
For the last decade or so STAR Telefilms - Star Middle East FZ-LLC held a 26% stake in the co.
In the last couple of days could see a buyer of 40-50 lakh shares on NSE in total buyers bid. Was waiting for a block deal for the trade and boom these guys go smart and use MCX-SX to do the block deal.
STAR Middle East had 16948194 shares in Balaji Tele
Balaji Tele has rarely traded on MCX-SX but today the whole block got executed on MCX-SX.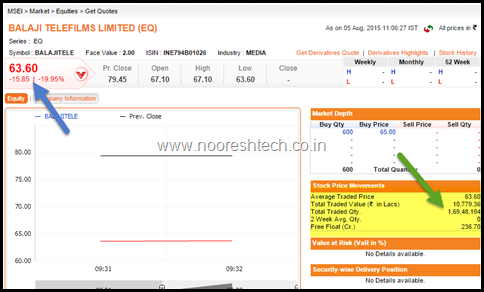 You can check this link - Balaji Tele on MCX-SX
Will this be a start of Block Deals to happen on MCX-SX. Did Balaji give a new turn on how to do Block Deals !!
( There are some rules regarding price for a block deal on NSE/BSE which are not there on MCX-SX i suppose. A lot of deals have to be open market and leading to slippage.)
Will write a detailed post in the evening.
P.S - The #android app - "NooreshTech" is Live Now.
( IOS app for Apple users is under development and should come up soon)
Do download the App. Would appreciate your Reviews on Play Store.
https://play.google.com/store/apps/details?id=com.nooreshtech.blog&hl=en
If you would like to learn Technical Analysis in a classroom session.
The next session is planned for Delhi on August 22-23 2015