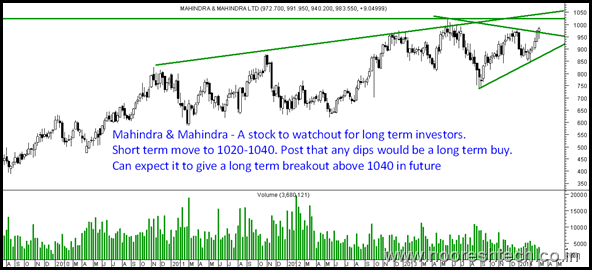 Mahindra and Mahindra
-> The stock is setting up for a long term breakout above 1050 over the next few months.
-> A short term cup and handle breakout seen which was barriers at 1020-1040.
-> Investors can look at the stock on dips to 960-980 after the dip.
-> A stoploss would be around 920.
Disclosure: A short term buy initiated at 980.
Some weeks back had posted how Reliance Inds is a good long term bet at 800-820 in this video https://www.youtube.com/watch?v=HMwPkFKJFj4 
Good to see the stock has moved to 900. Partial profit booking is advised and re-enter the same on dips.
Also we had a good online technical analysis crash course session even after some technical glitches. Will be having another session in few weeks time. Will keep all informed.
Thanks and Regards,
Nooresh Merani
Twitter – https://twitter.com/nooreshtech
Facebook – https://www.facebook.com/nooreshtech
Cell – 09819225396