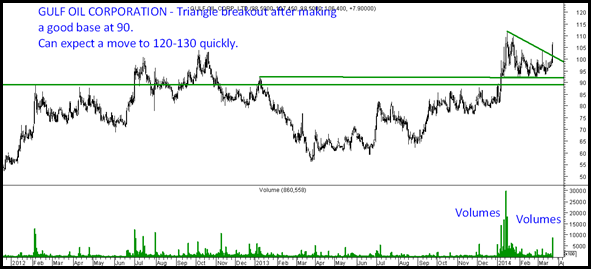 Gulf Oil Corporation Technical View
-> The stock was earlier recommended as a trade at 85-95 levels also.
-> Triangle breakout seen today with very strong volumes.
-> Before this the stock gave a breakout above 85-95 and did a quick move to 110.
-> For last 3 months the stock has been consolidating in a triangle.
-> Todays breakout should ideally take it to 120-130 quickly and even to 150-160 in medium term.
-> A technical stoploss would be at 98 and buying at 103-106.
Disclosure: Recommended at 103-105 to clients.
Thanks and Regards,
Nooresh Merani
Twitter – https://twitter.com/nooreshtech
Facebook – https://www.facebook.com/nooreshtech