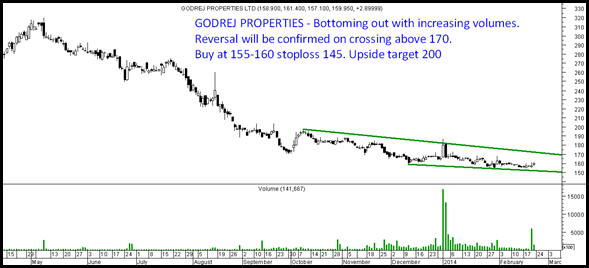 Godrej Properties Technical View:
-> The stock has been in a downtrend for the last many months.
-> Recently the stock has seen an increase in volumes and a falling wedge pattern being formed.
-> A falling wedge pattern indicates a major long term trend change. Sustaining above 170 would be the confirmation of a breakout.
-> Accumulate Godrej Properties at 155-160 with a stoploss of 145 and a target price of 200-250 in medium term.
Disclosure: The above chart was sent to clients and recommended as a long term buy.
Also it has been recommended on the CNBC Bulls Eye Program today.
You can check out the video of me. Will be coming on the CNBC Bulls Eye show around 10.50 am for this week.
https://www.moneycontrol.com/video/stocks-views/buy-divis-labs-sonata-soft-godrej-prop-nooresh-merani_1047854.html
We have designed a very important and a must course for all investors/traders  - Online Crash Course on Technical Analysis
Sunday 9th March 2014.
Time : 10 am to 5 pm.
Requirements – Headphones with a broadband connection.
Course Fees : Rs 2999.  (There are no early , late bird and group discounts. Limited Seats)
The webinar would be conducted on the platform provided by www.wiziq.com.
The recording of the full webinar will be available to the participants for the next 1 month to have a re-look.
You can subscribe for the course by making the payment on the following link.  ( You can also make a payment directly to our bank accounts here  )
Subscribe the Online Crash Course in Technical Analysis
( Or paste the following in your address bar
https://www.instamojo.com/noooreshtech/crash-course-in-technical-analysis/  )
Thanks and Regards,
Nooresh Merani
Twitter – https://twitter.com/nooreshtech
Facebook – https://www.facebook.com/nooreshtech
Cell – 09819225396