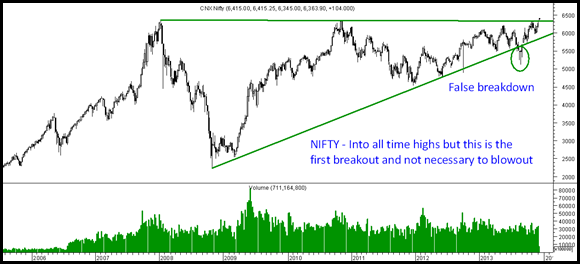 Nifty Technical View :
-> For the whole of weekend there were a lot of discussions on how Nifty is hitting new life highs and i told you so.
-> Nifty just did a move of 100 points today for the so called big event so its not really a game changer like 2009.
-> Out of all we got to realize there is no company called Nifty but its an index of 50 stocks. So if Nifty made a new life high today we got to see how many stocks crossed 2008 / 2010 highs.
-> Sadly the answer is ZERO.
-> Quite a lot of stocks have gone way higher than 2008 and quite a lot are not to be seen.
The reason is the big difference in the Nifty weights from 2008. One of the classical examples is
Reliance Communication had a weightage of 4.2% in 2008. Today it is not part of the index. It was the 7th highest weight. It is down from 800 to 140 in last 5 years.
ITC had a weight of 2.5% is now 9% . The largest weight today and is up 3 times from the highs of 2008.
In that sense one needs to realize that Nifty view should coincide with the top weights or some leaders. For now a simple technical view would be a break above 6350 should lead to a 6-10% jump quickly to 6600-7000 which many may start discussing.
But if we look at ITC , Reliance , Infosys, Hdfc Limited, ICICI Bank which comprise almost 36-37% of the index are not really showing leadership.
The last time we saw a breakdown below 5500 and we could just drop to 5100 because there was no leadership on downside.
So this time can it be similar ??
Dont really know the answer but at 6400 the risk-reward for a big index trade is not favorable given its a first attempt and it will not lead to a blowout necessarily. Lets take it in steps 6350-6400 then 6550-6600 and so on. Take stops at 6250 and then trail it would be better.
Difficult to say but for now the trend is positive and time to remain stock specific. Continue to believe midcaps/smallcaps will continue to catch up over the 5 years of underperformance.
It will remain selective in large caps. One stock which we do like is Wipro.
Thanks and Regards,
Nooresh Merani
Twitter – https://twitter.com/nooreshtech
Facebook – https://www.facebook.com/nooreshtech
Book Recommendation