This is a pure technical view as its difficult to take a call on the sector with a lot of unknowns and risks ( what if a terror attack takes place, Forex risks etc ) . So in such a case it is important to time the entry early. IT might be a very good play on consumer story and so on.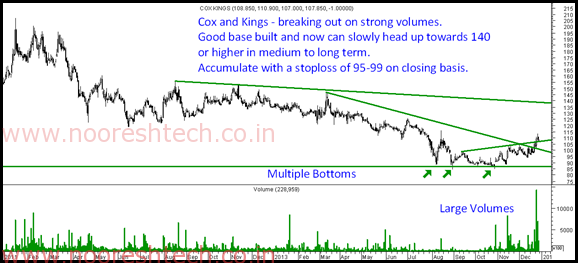 Cox and Kings Technical View
-> The first most interesting thing is the significant rise in volumes over the last 3 months in comparison to the whole of last year.
-> Multiple bottoms were made around 85-90 zones.
-> Stock broke out above 103-105 with very strong volumes and has given a strong reversal signal.
-> Seems a major bottom is in place and can head towards 140 or higher in medium term.
-> The strategy should be to accumulate at 105-112 with a stoploss below 95-99 a little deeper one.
Disclosure:  The stock was recommended to QuickGains / Big Value clients at 103-105 with a view of partial booking at 113-115.
Some of our services for monthly/quarterly can be bought from this link . For more of our services you can have a look at www.analyseindia.com
TECHNICAL ANALYSIS TRAINING MUMBAI – January 11-12
For more details mail to nooreshtech@analyseindia.com or call 09819225396 Nooresh ( after market hours )
Thanks and Regards,
Nooresh Merani
Twitter – https://twitter.com/nooreshtech
Facebook – https://www.facebook.com/nooreshtech