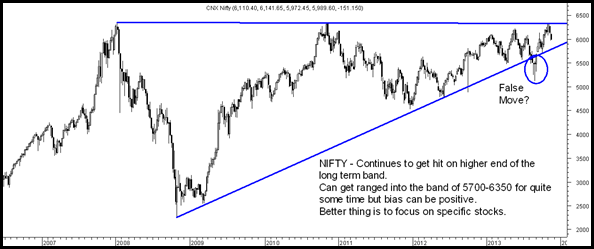 Nifty Technical View :
-> There are sometimes when you do not have a clear view or analysis on Nifty or many indices. This seems to be one of those times for me .
We saw a long term trendline breakdown but we ended up making a low of 5100 and reversing in no time and went to make new highs for the year at 6340. Question is which part of the move is false 5100 or 6340 🙂
-> Recently we touched the higher band of a 5 year range and got into overbought levels. ( we did take a short at 6350 and Bank Nifty puts but booked out pretty early at 6200 ). Also good part here is in the last 3 weeks the view of midcaps rocking has helped in a big way.
-> Now in last 1 week we did a downtick for 7-8 sessions non stop getting a bit oversold. We did take a call option in Nifty which seems to be playing out well but will keep the trailing stops.
-> But all through this there does not seem to be a clear direction to Nifty according to me. The conclusions might be different for others 🙂
-> In the same period what we have seen is a superb move in a lot of broader markets and the last 1 month has been really good with a lot of 15-40% jumping trades.
Now in simple terms the last low for Nifty was at 5700 and high at 6340. We are now standing at 6000-6100 giving almost a similar distance to both zones.
The call to take now is whether we break this range or be stuck in it for some time. But a risk reward trade does not seem to be coming where one can take a big call.
At the same time we have seen a good turnaround in a lot of midcaps.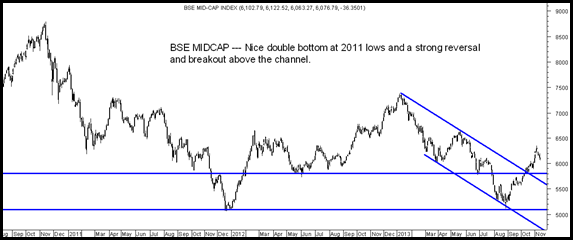 BSE MIDCAP Index seems to have bottomed out in a big way after a very very long time. So further corrections in coming months will create a very good long term opportunity in many midcap stocks. This thing looks very clear to me and one should now totally shift focus on broader markets on dips. The index may continue to remain range bound.
So unless one believes Nifty is going to break 5100 and 5700 the best thing to do is be stock specific. Even if 6350 were to cross it does not seem like we may go beyond 6500/6800 and a 2005-2007 type period right away with elections and various concerns. My personal view is we would hold 5700 and take a shot at 6350 and will review there.
So forget the commentary of Nifty new highs , Taper, RBI etc and focus on looking for long and short ideas with good risk-rewards . Be flexible to change directions and keep strict stops.
For example a Tech Mahindra a long term favorite from 700/1000/1200 has continued in an upswing irrespective of markets. There might be many such opportunities with broader markets in a totally different trend.
Bottomline : Be extremely stock specific. Be ready to Long or Short and opportunistic. Investment picks might get interesting in the midcap segment. To be fair we might actually reduce index trades from here on.
Given my confusion it would be good if all the readers can put in their views and select the choices.Do pass it around with this link https://docs.google.com/forms/d/1ybben457WlwFGO6-0haAScKW5MVRnhsvG6dgkRbsPsw/viewform . More the responses better will be the poll. Will put up the results by next week