Couple of days back had mentioned about HSIL as an interesting midcap pick with breakout at 86 levels.
https://nooreshtech.co.in/2013/10/hsil-limited-interesting-midcap-stock.html
Also tweeted about it being a Diwali pick
Here is the chart as it has broken out today.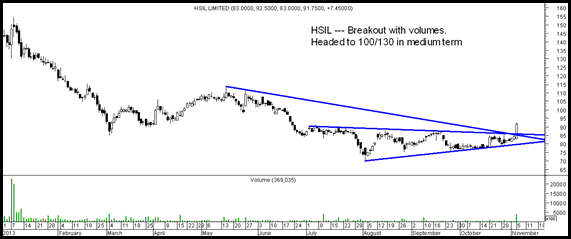 Expect the stock to head up towards 100/130 in short to medium term.
Disclosure: Recommended to clients at 80-82 and added at 86 today.
Another stock which gave a breakout with very strong volumes today was Torrent Power.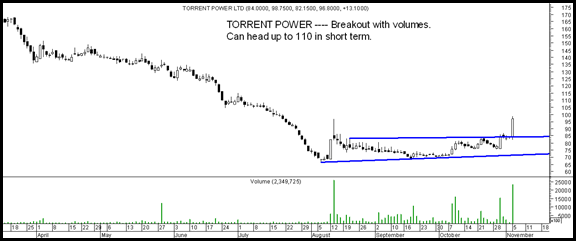 Had tweeted about the stock at 87-88 levels in the day
The stock was also recommended as a quick trade to clients and we booked half of the position at 96.
Still looks good for a move towards 110.
Meanwhile another couple of stocks like Nilkamal  ( Guess the stock post. It was sent to readers who subscribed the Technical Trades Report  )  and Sonata have given nice moves. Another stock recommended did flop after making an initial move Dcm shriram.
We will soon come out with another report discussing technical trades in the next few days.
TECHNICAL ANALYSIS TRAINING MUMBAI
NOVEMBER 16-17
Details of the course content on more given https://nooreshtech.co.in/technical-analysis-training 
To register for the course mail to nooreshtech@analyseindia.com or call me on 09819225396 ( after market hours )
Online Payment
https://www.instamojo.com/noooreshtech/technical-analysis-training-mumbai/ 
Book Recommendation --
This is a must read book for all traders and investors. You can like it or hate it but got to read it.
( This is a flipkart affiliate link and a small percentage does go to me on sale )
Thanks and Regards,
Nooresh Merani
Twitter – https://twitter.com/nooreshtech
Facebook – https://www.facebook.com/nooreshtech