This is an interesting company which has been in a downtrend for a variety of fundamental reasons and seems attractive. Hindware is the brandname which many of us know.
A quick look
HSIL Ltd
Market Cap: Rs. 531.44 Crores
Current Price: Rs. 80.40
Book Value: Rs. 165.67
Stock P/E: 6.12
Dividend Yield: 3.73%
Stock is Rs. 2.00 paid up
Company website
52 Week High/Low: Rs. 154.40 / Rs. 70.75
Quick Ratios Lookup:
Debt to equity: 0.83
Debt: Rs. 903.78Cr.
Debtor days: 66.77
Enterprise Value: Rs. 1361.42
It will take some time to look into the fundamental story but technically its forming a nice consolidation channel which has a breakout above 86.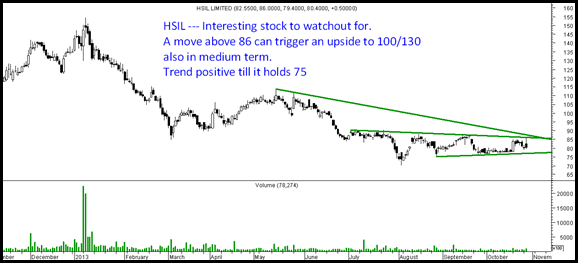 A technical trade comes into picture only in momentum above 86 ( channel breakout ) or with stops of 75.
Watchout for an increase in volumes.
Any reader tracking it fundamentally can post the comments or mail me on nooreshtech@analyseindia.com
Thanks and Regards,
Nooresh Merani
Twitter – https://twitter.com/nooreshtech
Facebook – https://www.facebook.com/nooreshtech