Just putting up a chart of one of the stocks recommended which is turning around.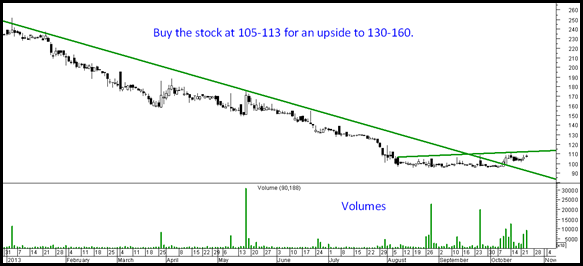 This is one of the charts as sent to the subscribers of the Technical Trades report.
Either use guess work and find the stock or subscribe to the report below which has more such stocks discussed. Also get more updates and a tutorial for free.
This is for a cost of Rs 999. The offer closes today evening.
Main Sections and Type of Ideas discussed are
1) Nifty 50 – Actionable Trades ( Long / Short ) and Nifty Detailed View
2) Midcap Technical Picks
3) Techno- Funda Bets
4) High Risk Momentum Trades in Smallcaps
5) Turnaround Stories
6) Concept Companies
You can buy the report for a Base Price of Rs 999 only .
TECHNICAL TRADES – Detailed Report on Actionable Trade and Investment Ideas
Or copy and paste the link below in your address bar
https://www.instamojo.com/noooreshtech/technical-trades-detailed-report-on-actionab/
Also write a feedback to nooreshtech@analyseindia.com to get more free reports /  tutorials and discounts.
Thanks and Regards,
Nooresh Merani
Twitter – https://twitter.com/nooreshtech
Facebook – https://www.facebook.com/nooreshtech