Another interesting midcap company – Navneet Education which has a very good brand image in the education segment. Decent on numbers but no price movement at all. Been a disappointing stock for a couple of years now.
Navneet Education
Market Cap: Rs. 1292.24 Crores
Current Price: Rs. 54.25
Book Value: Rs. 21.56
Stock P/E: 11.72
Dividend Yield: 3.32%
Stock is Rs. 2.00 paid up
Company website
52 Week High/Low: Rs. 70.70 / Rs. 50.00
But worth having a relook at in coming months.
The technical chart is as below. The last two years stock has generally bottomed around 48-52 zones. Will it again do the jump to 70 ?
Not taking a call but a good company to look into.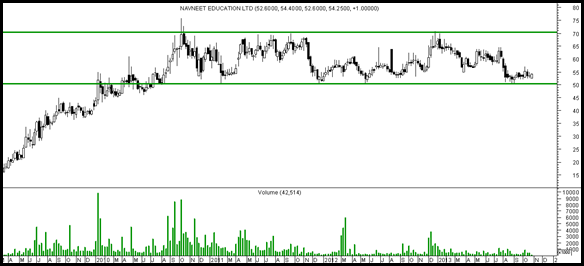 Thanks and Regards,
Nooresh Merani
Twitter – https://twitter.com/nooreshtech
Facebook – https://www.facebook.com/nooreshtech