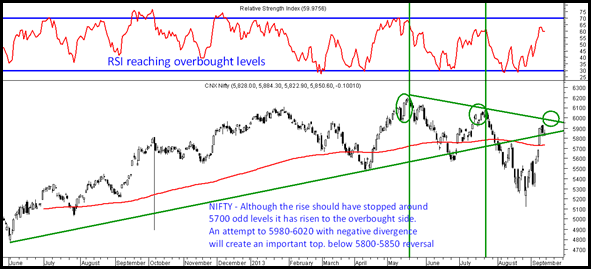 Nifty Technical View - The Rise is a Blessing in Disguise
-> Our initial expectation was markets to find a lot of resistance at 5650-5750 considering the lower trendline breakdown levels as well as a new low being made.
-> The index has surprised by going all the way to overbought RSI zones from oversold in such a quick time. The rise is not followed by a similar move in broader markets indicating - We are in a Bear Market with a Bullish Index.
-> Although a technical stoploss for shorts has been crossed above 5800 but we still believe the trend remains down on a broader market and this rise in Index is not sustainable.
-> The trendline from previous tops of 6240 and 6093 comes down in the band of 5980-6020. The current action seems similar to previous tops and may form negative divergences in coming days.
-> Over the last 5 years 6000-6200 has been a very strong resistance levels. Only difference this time is broader markets and even the leader Bank Nifty has given strong breakdown signal. So it would be difficult to cross the above resistance on the back of just a few large weights.
-> We may expect a retest of 5450-5550 and even 5100 till the time we are not crossing 6050-6100 in a convincing manner on weekly closing with broader market participation which we doubt in a big way.
-> The current Rise is a Blessing in Disguise for everyone who got stuck between 5200-5700 over the past few months. This rally can be a good time to increase cash or go short for aggressive traders.
-> Technical reversals on downside to be confirmed on breaking 5800.
Disclosure: We have been stuck on shorts from 5700-5750 levels and definitely there has to be a bias in that case. Will review if we sustain above 6000 to exit or below 5800 to add shorts.
Now some quick tweets on the Index weightages which i have posted
Bank Nifty lows when Nifty lows in April ( 5477) and June ( 5566) were 10900 and 11000 respectively. Today Nifty 5950 and BN at 10500

— Nooresh Merani (@nooreshtech) September 16, 2013
Never seen such a big difference between Benchmark Index - Nifty and every other sectoral index in many years. #sensex #nifty

— Nooresh Merani (@nooreshtech) September 16, 2013
Nifty now at 5950 is 5% away from 2013 highs. Midcap Index down 22% from 2013 highs ( but midcap top in Jan 2013 when nifty was at 6100)

— Nooresh Merani (@nooreshtech) September 16, 2013