Over the last 8-10 days was busy with a community function with no access to phone or net in the day. Hence there were no updates for clients and even blog readers.
Now back with more time on hand and hopefully more interesting articles and trades. Meanwhile had tweeted last week about adding shorts at 6080-6120. For now continue to maintain the negative bias on the index. One of the major reasons is a 1000 point bounce in Nifty has not led to any major run up in broader markets.
Look at the smallcap indices and how they are languishing at levels of December 2011.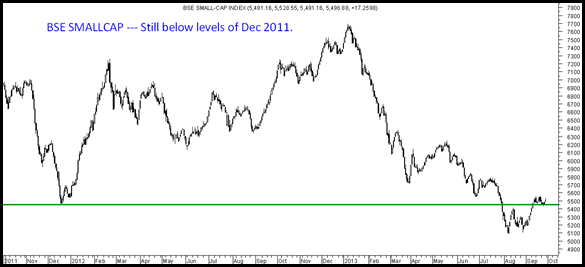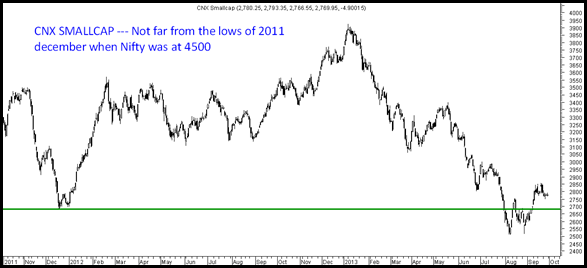 This implies Smallcaps are quoting at sub 4500 levels. Also the smallcap index has actual taken a much bigger hit then market.
From the highs of 11300 odd for BSE smallcap in Nov 2010 it is down 51% in the last 3 years !!
Nifty is not even down 10% in the same period. So there is a huge polarization towards the top 10 names of Nifty ( As mentioned in previous posts https://nooreshtech.co.in/2013/08/where-is-nifty-going-do-it-yourself-market-kya-lagta-hai.html how Nifty is basically about top 10-20 stocks )
In essence one can just say its one of the worst markets in the last couple of decades if we skip the top 50-100 stocks.
But no situation is permanent 🙂 Till then trade for extreme short term and invest for extreme long term 🙂