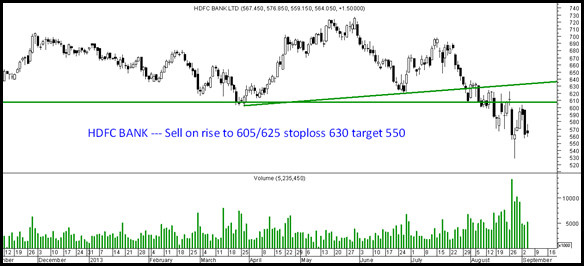 HDFC BANK TECHNICAL VIEW
-> Technically the stock had a lot of support around 610 levels which has actually become a resistance now.
-> Also the stock has been the most resilient in the banking segment. But with the breakdown seems it can either go back to 550 or lower or get sideways.
-> A rise to 605/625 can be a short with a closing stoploss of 630 and downside target of 550.
Quick Thoughts :
Even investors can have a relook into their HDFC Bank core holding as this remains the most expensive on all ratios and technically showing we might have made an important top around 700-730.
The assumption has been it will continue to grow 30% year on year. Will it continue to deserve similar multiples, price to book of 4-5 or is it better to shift into a bank which is available at a much better value. When many other banks have collapsed 50% from peak and if one needs to have some banking exposure in the portfolio should it be HDFC or some other ones.
Technically none of the other banks look in a good shape but further corrections of 20% can make some of them interesting.
TECHNICAL ANALYSIS TRAINING MUMBAI
SEPTEMBER 14-15
For more details mail to nooreshtech@analyseindia.com or call Nooresh 09819225396