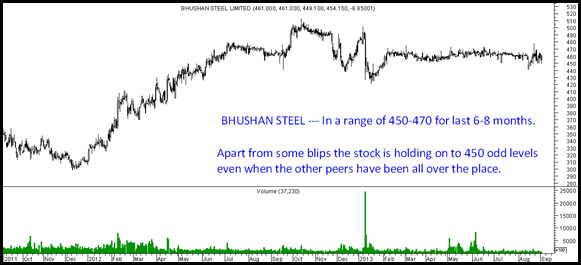 -> Bhushan Steel was a darling stock of traders in 2006 and 2009 moves but over the last 1-2 years the stock has gone nowhere.
-> At the same time other stocks in the same sector have collapsed or seen wild moves the stock is holding fort at 450 for almost 12-18 months.
-> Now surprising facts
Delivery volumes are only 5%. Implies 95% of the trades are intra day !!
For a stock worth 10k crores or almost 2 billion dollars the traded value is only 1-2 crores.
A stock which has performed superbly well for last few years ( from 50 in 2009 to 450 now ) there is no mutual fund holding the stock.
Promoters and other entities hold around 80% of the shareholding.
Technically the chart seems to be pretty controlled as no effect of falling or rising indices or peer group companies.
The biggest concern is the fact a stock which is not in the limelight and seeing no price moves has 95% of the trades to be intra day. There is something fishy.
Finally there is only one Fund which believes in the company – LIC.
LIC has bought a good 2.7% stake into the stock as per the last shareholding pattern.
This will be an interesting stock over next few quarters. Mind you technically its a big avoid and if you hold it then book profits.