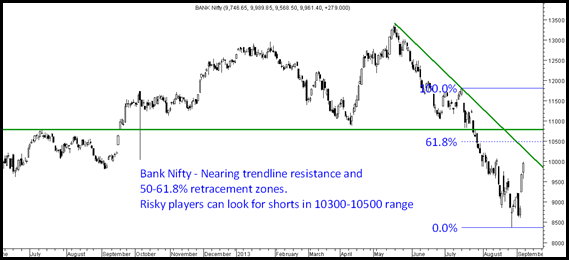 Bank Nifty Technical View:
-> This has been the craziest months for Bank Nifty.
-> A drop from 11800 to 8400 in almost a non stop fashion. In between bounces of 800-900 points.
-> Now we have a non stop from from 8400 to 10300 in no time.
-> But all said and done the trend has changed to down and a retest of previous breakdown level may be much higher at 10800-10900 but a 61.8% retracement at 10500 and trendline at 10300-10400 should provide resistance.
-> Risky traders can look for shorts around 10300-10500.
Now why do i mention risky traders is the high volatility and big gap up gap downs. One way to reduce risk is to go through options but with such high implied volatilities any sideways movement will kill the premiums.
Also for a fact the current rise has been a surprise. For us at Analyse India stuck in Nifty at 5620-5640 and added more at 5800 today. This is like a 200 pointer stoploss on entire position which can be possible only for people who do not over leverage. At the same time have some longs in Tata Motors, Cairn and shorts in Kotak , HDFC Bank.
The reason to remain negative on the markets is there is no major recovery in broader markets and the current rise is purely short covering. Lets see how it goes but the view is pretty clear sell on rise until we see a sustaining trend change in broader markets.