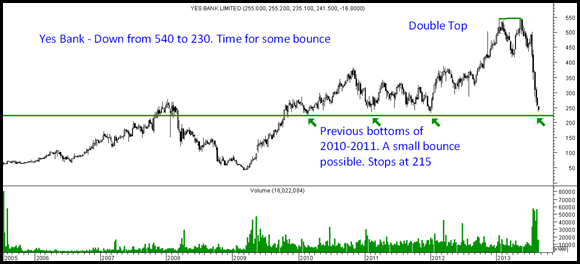 -> After making a classical top at 540-550 the stock did confirm a major trend reversal by breaking intermediate lows.
-> The chart started looking horrible way back in end of July but given the gap downs could not initiate any short trades.
Had tweeted about how horrible Indus Ind and Yes Bank had become
-> Now the stock has fallen all the way to previous lows of 2010/2011. Can expect a bounce even if it has to fall below the 2011 lows.
-> Given the risk-reward being in favor one can buy at 225-235 with stoploss 215 and review at 260-275. Keep booking partial profits on rise to reduce risk.
-> Also would like to make a specific note that this is a short term trade and long term would still prefer other banks like DCB, City Union or a HDFC Bank ( if it comes to 450) which are much better in their loan practices and so on.
TECHNICAL ANALYSIS TRAINING SESSION BANGALORE
AUGUST 31-1 September
For more details mail to nooreshtech@analyseindia.com or call Nooresh 09819225396
If you would like to confirm your seat for the Bangalore Training session and make an online payment then do so on the following event link on explara
https://em.explara.com/conference/technical-analysis-training-equitiescommodities
Regards ,
Nooresh