Todays big news seems to be the 60% fall in Financial Technologies. 
The first hint of something being wrong came in technically. I had posted this chart of Financial Technologies as a trading idea for a target of 600 -
In a follow up mentioned that Financial Technologies end up at 500 . Unfortunately sticking to the conservative strategy we booked at 600 in 4-5 sessions :(.
This is how the chart looks now.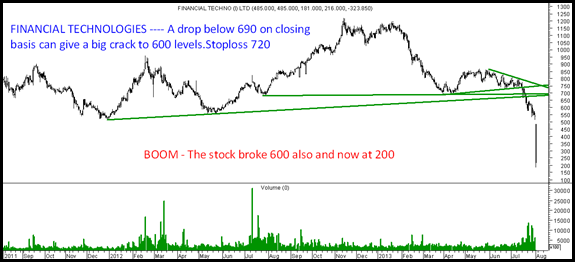 A few days back there was an article showing how Financial technologies was sitting at a huge risk - https://t.co/iM2QwEDALl 
For last couple of years had been reading about many advisors talking about 14-17% returns through the NSEL products. This did seem unsustainable.
Today when suddenly NSEL contract suspension news came in people are realizing the risk with Financial technologies.
Currently the stock trend remains down and if market rumors of a major payout crisis is to be believed the liability risk can be huge for Financial Technologies. Maybe it will come out with no issues but its not worth the risk.
So if you hold the stock pray that company manages to get out of this mess. If you do no hold it be relaxed and give it a miss unless you are ready for another 20-50% crack risk on the stock.  No need to catch this falling knife.
From the above post its very clear as to why Technical Analysis is a tool which every trader/investor should know of to be able to get out of such risks. Technical Analysis would not have suggested the stock would fall to 200 rupees but it definitely gave an exit signal. Also one of the simplest rules a technical analyst follows is a stoploss which helps to get out in such cases.
TECHNICAL ANALYSIS TRAINING SESSION MUMBAI
AUGUST 10-11
Can check a brief on the course outline https://nooreshtech.co.in/technical-analysis-training
TECHNICAL ANALYSIS ONLINE TRAINING SESSION IN AUGUST
This would be done through webinars.
For more details mail on nooreshtech@analyseindia.com or call Nooresh 09819225396 Ankit 09899899989
Nooresh Merani
www.analyseindia.com   ( For all our services )
Twitter – https://twitter.com/nooreshtech
Facebook – https://www.facebook.com/nooreshtech