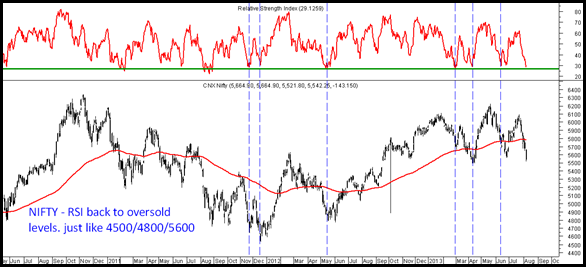 Nifty Technical View
Its been a very surprising time period in terms of how quickly Nifty is shuttling from overbought to oversold.
As of yesterday Nifty has touched oversold levels on RSI similar to previous bottoms.
Although Nifty broke recent bottoms of 5580 there was not much of panic selling in index weights. ( The reasons for the same is how skewed the index is on few stocks ) Check this detailed post written in this week.
Will we again see a pullback because of the oversold conditions. Seems probable but given that only a few stocks can lead the bounce it is imperative one now keeps a stock specific view.
TECHNICAL ANALYSIS TRAINING SESSION MUMBAI
AUGUST 10-11
TECHNICAL ANALYSIS TRAINING SESSION BANGALORE
AUGUST 31-1 September
If you would like to confirm your seat for the Bangalore Training session and make an online payment then do so on the following event link on explara
https://em.explara.com/conference/technical-analysis-training-equitiescommodities-51ff652cafca8
Regards ,
Nooresh